ENGLISH
Well, I think I'm gonna write an interlude entry first before moving to the third and last part of my

Mid Year Vacation : Singapore & Penang

story, hehe :)
Anyway, last Monday, I hang out with my friends. Actually, because we were kinda bored to hang out in Yogyakarta, we had a plan to go to the beach. I actually proposed to go to Baron beach (and some other beaches nearby) since I haven't been there like forever, LOL. The last time I went there was when I was in Junior High, even at that time I only went to one beach. However, because of some reasons, our plan to go to the beach had to be canceled.
So, yesterday we departed at around 10.30 AM. At first we had lunch at Jejamuran Resto, a restaurant which only served mushrooms (jamur) as their menus. It was located pretty far from the city, about 800 meters from the Yogyakarta - Semarang main road. For me, it was just okay, nothing really special, but yeah, the price was really affordable (especially when comparing it to food price in Singapore, wkwkwkw). Then, because of the beach cancelation, we went to the exact opposite place, Kaliurang!! wkwkwkw. Kaliurang is located in the foot of Merapi Mountain, so yeah, instead of going to the beach, we went to the mountain, instead of going south, we went north, LOL. It was okay for me since I also haven't been there for pretty long.
Kaliurang was just Kaliurang. Probably because now I'm used to live in Bandung where going everywhere takes forever, the trip to Kaliurang was felt so short, not as far as I felt as it used to be, haha. In Kaliurang we went to Tlogo Putri and entered the rain forest. I still remember vividly there was a waterfall and a pond beneath it in there when I was a child. Yesterday, the waterfall was still there, but not falling as much water as it used to be, and the pond had vanished!! Hmmm. Anyway, then we went to Warung Poci and played cards there for about an hour, haha. After that, we went to "Gardu Pandang" (Lookout Tower) which I realized that it had been renewed. Then, we went back to Yogyakarta.
Actually I was looking for a tennis manager game, but I couldn't find it, damnit. After dropping one friend (well, I just remember there is one story I can write, I'll keep it for later, haha), my other friend and I had dinner at Galeria. Then, we went back home.
Well, holiday has been real quick. It's not that tomorrow it's over, no, it will still last for another two weeks, it's just that tomorrow I'm going back to Bandung driving my car back there! Hmmm. It feels that
my trip
back to Jogja
last May was like only two or three days ago, haha...
::: Soto Kridosono and sate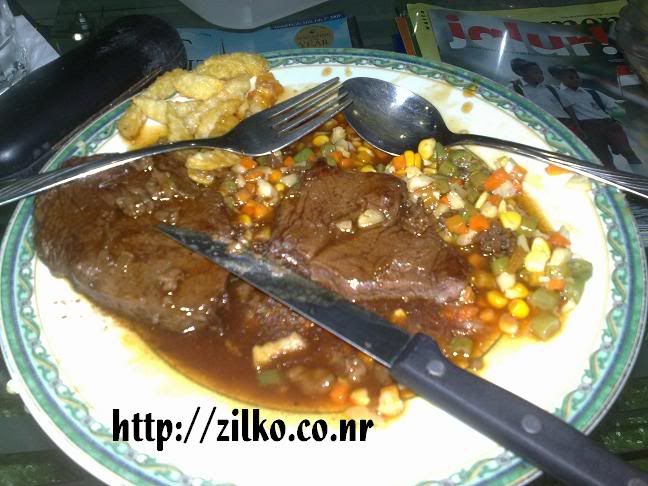 ::: 9th Grade Wagyu Imported Steak I had last Sunday
::: mushroom farm at Jejamuran
::: some of our meal at Jejamuran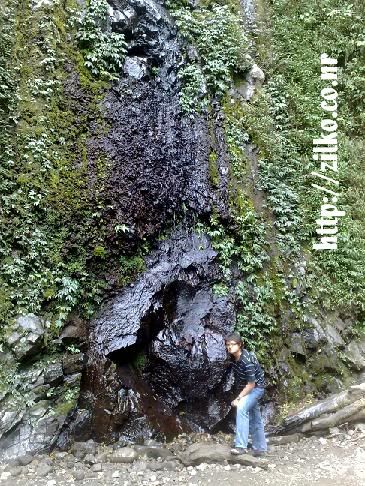 ::: at Kaliurang's waterfall. I was standing in what I remember as a pond some years ago when I was a child.
::: some meal at Warung Poci
::: scenery at Gardu Pandang (Lookout Tower)
::: my dinner at Bee's Galeria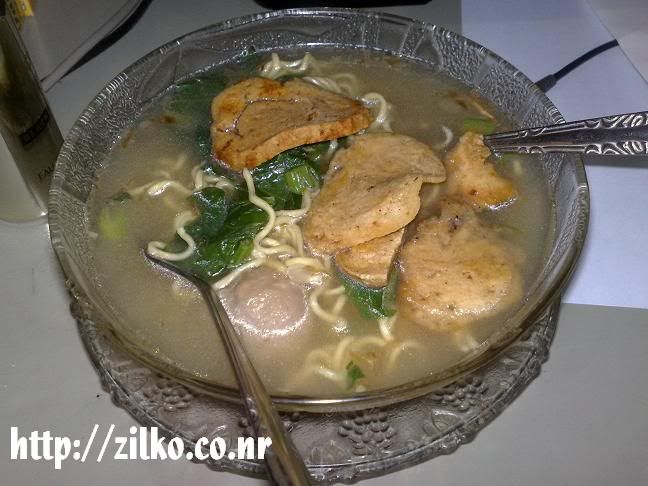 ::: bakso

BAHASA INDONESIA
Yah, kayanya aku akan nulis posting selingan dulu ah sebelum masuk ke bagian ketiga sekaligus terakhir dari cerita

Mid Year Vacation : Singapore & Penang

, hehe :)
Ngomong2, Senin kemarin, aku jalan2 sama teman2. Sebenarnya sih karena agak bosan juga jalan2nya di kota Yogyakarta mulu, kita ada rencana untuk jalan2 ke pantai. Nah, awalnya sih aku mengusulkan ke pantai Baron tuh (dan pantai-pantai lain di sekitarnya) karena aku udah lamaa banget kaga kesana, LOL. Terakhir aku kesana tuh waktu SMP loh, bahkan waktu itu juga cuma ke satu pantai aja. Namun, karena satu dua hal, rencana ke pantai harus dibatalkan deh.
Jadi, kemarin kita berangkat jam 10.30 pago. Pertamanya kita makan di Rumah Makan Jejamuran dulu, sebuah rumah makan yang hanya menyajikan jamur di dalam menu mereka. Lokasinya lumayan jauh dari kota, sekitar 800 meter dari jalan utama Yogyakarta - Semarang. Untuk aku sih rasa makanannya biasa aja koq, tidak terlalu spesial, tapi benar bahwa memang harganya sangat terjangkau (apalagi kalo dibandingkan dengan harga2 makanan di Singapore, wkwkwkw). Trus, karena pembatalan rencana pantai, kita malah pergi ke tempat yang benar-benar berlawanan, Kaliurang!! wkwkwkwkw. Kaliurang terletak di kaki gunung Merapi, jadi yah, tidak jadi pergi ke pantai malah pergi ke gunung, tidak jadi pergi ke selatan malah pergi ke utara, LOL. Aku sih
fine-fine
aja sama rencana ini soalnya aku juga dah ga kesana lumayan lama sih.
Kaliurang ya kaya Kaliurang. Mungkin karena aku dah biasa tinggal di Bandung yang membutuhkan waktu selamanya untuk pergi ke tempat lain, perjalanan ke Kaliurang jadi terasa singkat, tidak sejauh kaya yang aku rasakan dulu, haha. Di Kaliurang kita pergi ke Tlogo Putri dan masuk ke hutan hujannya. Aku masih ingat dengan jelas kalau dulu waktu aku kecil tuh di dalam hutannya ada air terjun dan kolam di bawahnya. Kemarin, air terjunnya masih ada tapi air yang mengalir sedikit sekali dan kolam di bawahnya sudah hilan!! Hmmm. Ngomong2, setelahnya kita duduk-duduk di Warung Poci selama sekitar sejam lah sambil main kartu, haha. Kemudian kita pergi ke Gardu Pandang yang aku sadar kalo tempatnya ternyata udah direnovasi. Trus, balik deh ke Yogyakarta.
Sebenarnya sih aku sedang mencari game manager tenis nih, tapi kemarin gak nemu nih, sial. Setelah menurunkan temenku (yah, aku jadi ingat satu bahan cerita nih, nanti deh ditulis, haha), aku dan temenku yang lain makan malam di Galeria. Setelahnya baru deh pulang.
Hmm, liburan benar-benar cepat banget yah. Ya bukannya besok udah selesai sih, engga, masih akan berlangsung sampai sekitar dua minggu lagi. Hanya saja, besok aku akan balik lagi ke Bandung naik mobil! Hmmm. Rasanya tuh
perjalananku
balik ke Jogja
Mei lalu kaya baru terjadi dua atau tiga hari yang lalu, haha...