ENGLISH

Hmm, it has been another while since my last entry. I dunno why but lately, especially after I'm back in Bandung, the urge of blogging has suddenly dropped. Hopefully it's gonnabe back soon and I will continue my Singapore and Penang Trip story before it's too late, haha.

These past one week, I was still in holiday, the last week of my mid-year holiday, haha. Today, 17th August 2009, is the last holiday since tomorrow everything is gonnabe back to normal life. I will start my university life again. Anyway, because this semester I only take 15 (and I plan to reduce it to 12) credits, my schedule is a bit "relaxing". I will only have classes on Tuesday and Thursday, while I teach on Wednesday and Friday. Finally, the first time since I am in university, I will have a Monday and Saturday OFF each week!! Well, still it's not including the time I have to spend for my Final Assignment (thesis) tho, haha.

I have bought a cable-data so that I can transfer datas from my phone to my computer. Surprisingly, it's way more expensive than I thought it was, it was Rp 210,000.oo!! Dangit.

O yea, with his appearance in the final of Rogers Cup last week, finally Andy Murray has become world no. 2! This is exciting because now the men's tennis is not dominated by Federer and Nadal anymore, because a way-too-extended domination is really boring, hehe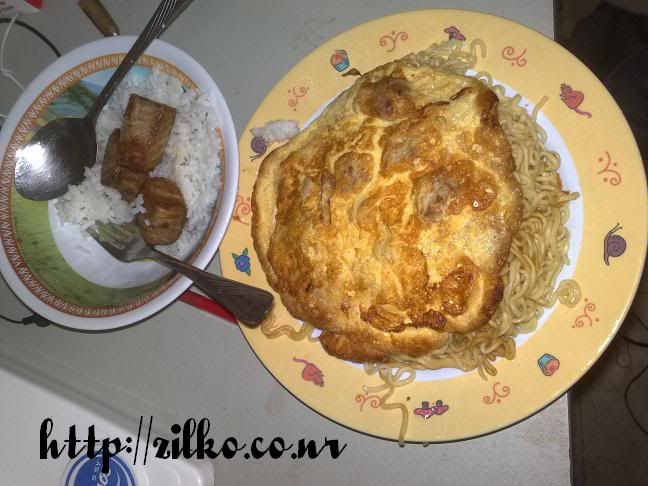 ::: my own-made fried tuna and tuna omelette, haha...


::: some of my meal last Saturday, ronde Alkateri and sate



BAHASA INDONESIA

Hmm, udah lama (lagi) nih sejak posting terakhir. Entah kenapa ya, terutama setelah balik ke Bandung, koq tiba-tiba hasrat untuk nge-blog tiba2 turun sih. Yah mudah2an hasratnya akan segera balik deh dan aku akan melanjutkan posting Perjalanan ke Singapore dan Penang sebelum basi, haha.

Seminggu terakhir ini, aku masih berada pada masa liburan, minggu terakhir dari liburan tengah tahun kali ini, haha. Hari ini, 17 Agustus 2009, adalah hari terakhir liburan nih karena besok semua akan balik ke kehidupan biasa. Aku akan memulai kehidupan kampus lagi. Ngomong2, karena semester ini aku cuma ngambil 15 (dan malah berencana menguranginya jadi 12), jadinya jadwal kuliah semester ini juga lebih "nyantai". Aku cuma akan kuliah di hari Selasa dan Kamis, sementara ngajar di hari Rabu dan Jumat. Akhirnya nih, semenjak pertama kuliah, akhirnya aku memiliki hari libur di hari Senin dan Sabtu!! Yah, semua jadwal itu masih belum termasuk waktu untuk ngerjain tugas akhir (skripsi) sih, haha.

Aku juga sudah beli cable-data nih jadi bisa men-transfer data dari hape ke komputer. Yang bikin kaget, ternyata harganya jauh lebih mahal dari yang aku kira, Rp 210.000,-!! Sialan.

Oya, dengan penampilannya di final Rogers Cup minggu lalu, akhirnya Andy Murray menjadi petenis nomer 2 dunia nih! Berita ini menggembirakan karena sekarang tenis pria setidaknya tidak lagi didominasi oleh Federer dan Nadal nih, soalnya dominasi yang berkepanjangan kan bikin bosen juga, hehe.