ENGLISH
Well, it has been (another) while since my last entry. I dunno what happened to me this month, but suddenly the desire to write on this blog vanished, only leaving a really small amount. Well, this has never happened since
October 2005
, where I only wrote three entries in one month, haha... .
Anyway, this past few weeks, it has been kinda fun. Last week I started teaching. Surprisingly, I wasn't that nervous (as I thought I would be) in my first two classes. I had a culinary day with my friend on Friday (LOL).
O yea, last Friday, I also bought train ticket back to Yogyakarta. Now, I really hate Indonesian Train Corp because of a regulation (I assumed) that they apply this year. As we know, Lebaran will be celebrated next month, which means mass homecoming will also occur those days. That's why I bought train ticket in advance so that I would still get ticket.
I want to go back to Yogyakarta at 19 September but apparently, the 19 September Argo Wilis' tickets had been sold out. So, I looked for alternatives and the only possible one is 19 September Turangga. Okay, so I bought the ticket. Once I got the ticket, I looked at it and it's written I bought Bandung - Surabaya ticket while I ordered Bandung - Yogyakarta ticket (Yogyakarta is about halfway Bandung - Surabaya), therefore it was super expensive: Rp 400,000.-!! The basefare itself has been raised for almost 100% (the normal Turangga's Bandung - Surabaya ticket fare is Rp 240,000.-) and I also had to pay Bandung - Surabaya while I actually will get off at Yogyakarta, about halfway (the normal Turangga's Bandung - Yogyakarta ticket is Rp 155,000.-/Rp 175,000.-). Then, it means that I had to pay for about 200% more than the normal price!!! WTF!! This also means, we (customers), are forced to pay for what we are not gonna get (Yogyakarta - Surabaya ride).
Well, compared this incident to what I got
two years ago
when Merpati was still operating Bandung - Yogyakarta flight. I got a Rp 585,000.- ticket to get back home and a return ticket of Rp. 392,000.-!! It was cheaper than what I buy right now! Well, let's say the condition now and two years ago is different so that we can't directly compare the nominal price. Let's say if there was a flight operating Bandung - Yogyakarta, it would cost Rp 600,000.-. I think I would have gone for the flight, because it only takes 35 minutes flight from Bandung - Yogyakarta using jet aircraft, while it takes 8 hours by train! Hmmm...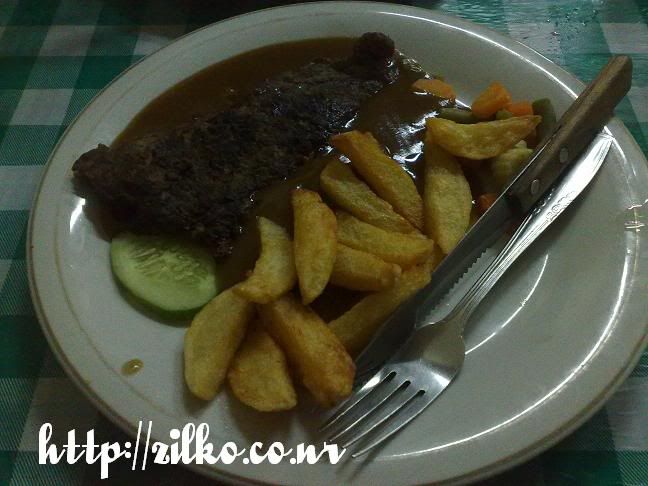 ::: blackpepper steak
::: bakso cipaganti

BAHASA INDONESIA
Wow, ternyata udah lumayan lama (lagi) ya sejak posting terakhirku. Gila nih gatau kenapa di bulan ini tiba-tiba semangat untuk ngeblog hilang nih, cuma sisa sedikiiit. Yah, ini tidak pernah terjadi lho sejak
Oktober 2005
, dimana aku cuma menulis tiga posting dalam sebulan, haha... .
Ngomong2, belakangan ini sih, yah fun-fun aja. Minggu lalu aku mulai mengajar. Yang mengagetkan, ternyata aku tidak se-tegang yang aku kira bakalan jadi di dua kelas pertama. Aku juga pergi menikmati hari kuliner sama temenku di hari Jumat (LOL).
O iya jadi inget, Jumat kemarin, aku juga membeli tiket kereta untuk pulang ke Yogyakarta. Sekarang bener deh aku benci banget sama PT. Kereta Api karena regulasi (aku asumsikan nih) yang diterapkan. Seperti yang diketahui, Lebaran tuh bulan depan, berarti mudik massal kan juga bulan depan tuh. Makanya aku beli tiket kereta awal banget supaya dapat tiket.
Aku mau balik ke Yogyakarta tanggal 19 September tapi ternyata tiket kereta Argo Wilis tanggal itu sudah habis. Jadi, aku mencari alternatif lain dan yang mungkin adalah kereta Turangga, juga tanggal 19 September. Oke, aku membeli tiket Turangga itu. Ketika aku mendapatkan tiket, tertulis kalau tiket itu adalah tiket Bandung - Surabaya padahal kan aku pesannya tiket Bandung - Yogyakarta (Yogyakarta itu kira-kira ada di tengah-tengah antara Bandung - Surabaya), makanya harganya mahal banget kan: Rp 400.000,-!! Lha harga dasarnya aja udah dinaikkan hampir 100% tuh (harga normal Turangga untuk rute Bandung - Surabaya tuh kalo nggak salah Rp 240.000,-) dan aku juga harus membayar tiket Bandung - Surabaya padahal aku kan cuma naik sampe Yogyakarta, sekitar setengah perjalanan (harga normal tiket Bandung - Surabaya itu Rp 155.000,- atau Rp 175.000,-). Makanya nih berarti aku harus membayar sekitar 200% lebih mahal dari harga normal!! Sialan!! Ini juga berarti, kita (pelanggan) kan dipaksa untuk membayar sesuatu yang jelas tidak akan kita nikmati (perjalanan Yogyakarta - Surabaya).
Hmm, coba deh kita bandingkan dengan apa yang aku dapat
dua tahun yang lalu
ketika Merpati masih mengoperasikan penerbangan Bandung - Yogyakarta. Waktu itu aku dapat tiket Rp 585.000,- untuk pulang dan Rp 392.000,- untuk balik!! Tuh kan yang balik lebih murah daripada yang aku dapat sekarang! Yah, bisa saja kita bilang kalo kondisi sekarang dan dua tahun lalu kan berbeda, makanya tidak bisa dong membandingkan langsung berdasarkan nilai nominalnya. Oke deh katakanlah sekarang harga tiket pesawatnya Rp 600.000,-. Kalo aku sih mungkin masih lebih memilih tiket pesawat yah karena lama perjalanannya hanya 35 menit dengan pesawat jet sementara kalo naik kereta 8 jam!! Hmmm...