ENGLISH
Well, this weekend has been really tiring for me, especially last Saturday. Last Saturday I had a really really full day. Of course in the morning until afternoon I had to go to my campus. Then later in the evening I gotta helped my friends to sell flowers for raising fund for the Math Competition this year. It was really tiring and nerve-wrecking. Imagine this: for the first 2 hours, we only had sold 2, wtf!! But then luckily after that the 'harvesting' time came, LOLz. After that we had dinner at Cibadak. Anyway, watching the first leg of TARA 3 last week really made me want to eat frogs (swikee), LOLz. Finally yesterday I could eat swikee, hahaha.... . Apparently it's so expensive, Rp 20,000.oo per portion! hmmm...
For today, it has been a much enjoyable day, but I have a lot to do. I have homeworks to finish this week, and I also have to finish some other tasks. Damn!! :(
This week is gonnabe another super busy week!! :( Before going back to Yogyakarta next Thursday, I really have a lot to do!!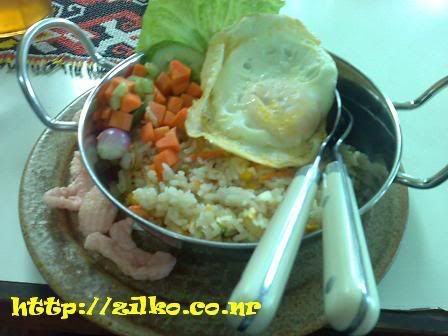 ::: fried rice I ate yesterday morning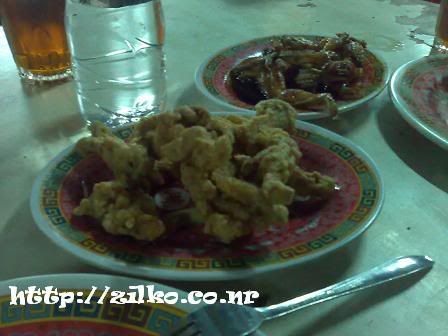 ::: swikee (floured fried and buttered fried)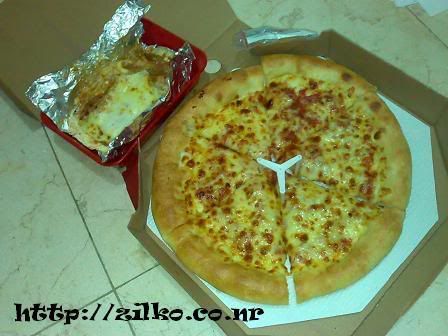 ::: Deluxe Cheese Pizza and Lasagna I had for today

BAHASA INDONESIA
Hmm, wiken ini beneran dah melelahkan sekali buat saya, terutama Sabtu kemarin. Sabtu kemarin aku bener2 menghadapi hari yang benar2 sibuk. Tentu saja pagi sampai siangnya aku harus berada di kampus. Kemudian sorenya sampai malam aku mesti membantu teman saya jualan bunga untuk mencari dana untuk Kompetisi Mat tahun ini. Hmmm, bener2 melelahkan dan bikin deg2an deh. Masa ya: selama 2 jam pertama kita baru bisa jual 2 biji doang loh, wtf! Eh, untung setelahnya baru deh waktu 'panen'-nya tiba, LOLz. Habis itu kita makan di Cibadak. O iya, habis nonton leg pertama dari TARA 3 minggu lalu aku jadi pengen makan swikee, LOLz. Akhirnya kemarin bisa juga makan swikee, hahaha... . Ternyata mahal juga yah, masa seporsinya Rp 20.000,-! hmmm...
Untuk hari ini, hari ini adalah hari yang jauh lebih bikin santai daripada kemarin, tapi tetap saja ada banyak kerjaan. Banyak banget PR untuk dikumpulkan minggu ini, dan juga harus mengerjakan tugas2 lainnya. Sial!! :(
Minggu ini juga akan menjadi minggu yang menyibukkan deh!! :( Ternyata sebelum bisa pulang ke Yogyakarta besok Kamis aku harus mengerjakan banyak sekali hal nih!!