ENGLISH
Well, it has been quite a while since I wrote about my daily life, hahaha... .
Well, these last 2 weeks have been really busy and a bit frustrating for me. Last week was so tiring, especially last Friday. My day was so full from 8 AM up until 9 PM, haha... . Then, on Saturday I became one official of the National Seminar held by my department all day long.
Sunday was my
20th birthday
and I could indulge myself that day, LOLz.
This week should have been a bit more relieving but in fact, it's not. As you can read at the
newest entry
on my private blog, some things were stirred up this week. Plus, a similar thing almost happened yesterday but learning from the earlier case, I could force myself to make that not happening again for now, haha... . Then, some other nerve-wrecking situation also occured, dang!! :( This 5th semester I think is really gonnabe hard and tough!! Hmmmm!! Plus, there are many assignments!!
Anyway, today the first episode of
TARA 3
was aired. Some spoilers were right, the race was started in Bangkok, Thailand and the first leg ended at Chiang Mai, Thailand. Some news were also right about the first 2 teams arriving at the pitstop, Mai & Oliver and Geoff & Tisha. Then, they were in order followed by Henry & Bernie, Natalie & Pailin, Ida & Tania, William & Isaac, Sam & Vince, A.D & Fuzzie, Niroo & Kapil, and Neena & Amit (ELIMINATED).

::: View of Bandung
::: my brunch for my birthday, fried noodle and plain puyunghay
::: I indulged myself with pizza, LOLz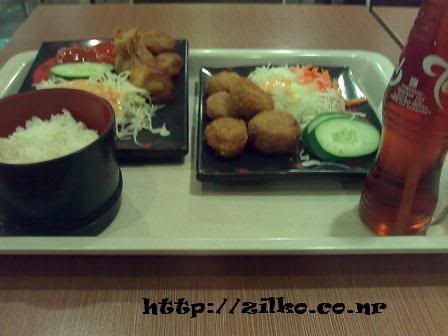 ::: my meal at Hokben this Monday
note: I'm so sorry for those who are currently fasting for posting some pics of food... :(

BAHASA INDONESIA
Hmmm, sudah lumayan lama juga aku tidak menulis kehidupan sehari-hari, hahaha.... .
Hmmm, dua minggu belakangan ini tuh benar2 menyibukkan dan membuat frustasi aku nih. Minggu lalu deh bener2 melelahkan, terutama Jumat. Hari saya penuh dari jam 8 pagi sampe jam 9 malam, haha... . Ditambah lagi, Sabtu nya aku menjadi satu panitia untuk Seminar Nasional yang diadakan jurusanku sepanjang hari.
Hari Minggu adalah
ulang tahun ke-20
ku dan aku bisa sedikit memanjakan diri hari itu, LOLz.
Minggu ini seharusnya bisa menjadi cukup melegakan, namun kenyataannya sih tidak. Seperti yang bisa dibaca di
posting terbaru
di blog privat ku, beberapa hal muncul minggu ini. Plus, hal yang mirip nyaris terjadi kemarin loh namun belajar dari pengalaman itu, aku bisa membuat diriku menahan untuk tidak mengulanginya untuk saat ini, haha... . Trus, beberapa hal yang bikin deg-degan juga muncul, sial!! :( Semester 5 ini bener2 deh akan menjadi keras dan tangguh!! Hmmmm!! Ditambah, ada banyak tugas lagi!!
Ngomong2, hari ini episode pertama dari
TARA 3
ditayangkan loh. Beberapa spoilernya tepat, leg pertama dimulai di Bangkok, Thailand dan beres di Chiang Mai, Thaland. Beberapa berita juga benar, yaitu yang menyatakan bahwa Mai & Oliver dan Geoff & Tisha adalah dua tim pertama yang tiba di pitstop. Mereka diikuti berturut2 oleh Henry & Bernie, Natalie & Pailin, Ida & Tania, William & Isaac, Sam & Vince, A.D & Fuzzie, Niroo & Kapil, dan Neena & Amit (TERELIMINASI).