ENGLISH
The title speaks itself, hahaha... .
Last Wednesday I had a really long day. My day started at 6 AM. I had lectures at 7 AM, and my lecture day finished at 5.45 PM. That's so tiring! Plus, because this Thursday I gotta go back to Yogyakarta, I gotta prepare for everything (packing, buying gifts, etc) on the evening. Bottomline : A really exhausting day!! haha... :) And since I love Wednesday's TV Shows, I couldn't sleep early yesterday, LOLz. I slept at 12 AM (midnight).
Today (Thursday) I went back to Yogyakarta. I got up at 5 AM, and at 6.15 AM I went to Bandung Railway Station. Well, I actually planned to have breakfast at Hokben Station but it was still not opened yet until 6.45 AM!! Damn!! So I decided to change plan to have breakfast on rail, hahaha... :) I ordered a Rp 12,000.- fried noodle. It was okay, but was a bit expensive for me, hmmm... . Anyway, the train was late by 30 minutes! Dang!!
One suck thing happened today: I missed
TARA 3
premiere and I also missed its first rerun!! DAMN!! I missed its rerun because at first I thought it would start at 11 PM (which was true) but when at that time I turned my AXN on, there was no sign it would start and another show appeared. I thought it would start at 12 AM but when I checked at 12 AM, the leg had been finished!! DAMN!! :( Arrrrrrrgggggghhhhhhhhhh.........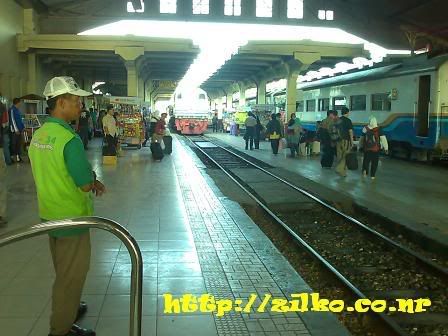 ::: Argo Wilis Express
::: a Rp 12,000.- fried noodle on train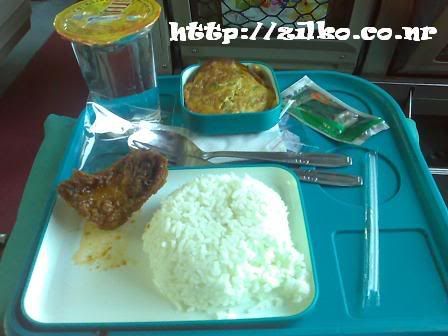 ::: a complimentary lunch

BAHASA INDONESIA
Judulnya sudah jelas lah ya, hahaha... .
Rabu kemari beneran deh merupakan hari yg panjang buat aku. Hariku dimulai jam 6 pagi. Aku ada kuliah yang mulainya jam 7 pagi. Semua kuliahku baru beres tuh jam 5.45 sore loh, gila dah. Melelahkan banget! Mana karena Kamis ini aku kan balik ke Yogyakarta nih, makanya kemarin malam aku ya harus mempersiapkan segalanya kan (berkemas, beli oleh2, dll) tuh. Kesimpulannya: Hari yang sangat melelahkan!! haha... :) Dan karena aku suka acara2 TV di hari Rabu, makanya aku gabisa tidur awal de kemarin, LOLz. Aku baru tidur jam 12 tuh (tengah malam).
Hari ini (Kamis) aku balik ke Yogyakarta. Aku bangun jam 5 pagi dan jam 6.15 pagi aku ke Stasiun Kereta Api Bandung. Aku sebenarnya berencana mau makan pagi di Hokben Stasiun sih namun ternyata masih belum buka tuh Hokben-nya sampe jam 6.45 pagi!! Sial!! Makanya aku memutuskan untuk mengubah rencana jadi makan pagi di kereta saja deh, hahaha... :) Aku pesan mie goreng seharga Rp 12.000,-. Rasanya sih nggak jelek tapi harganya itu lhoo yang agak mahal untuk saya, hmmm... . Ngomong2, keretanya telat 30 menit tuh. Sial!!
Satu hal menyebalkan yang terjadi hari ini: Aku kelewatan nonton
TARA 3
premiere dan tayangan ulang perdananya!! SIAL!! Aku kelewatan rerun-nya karena aku kira akan mulai jam 11 malam (dan bener tuh ternyata) tapi jam segitu waktu aku nyalain TV koq ga ada tanda TARA akan mulai tuh, malah ada kaya acara lain gitu. Aku kira aku salah ingat dan baru akan mulai jam 12. Nah, jam 12 waktu aku cek eh koq babaknya udah selesai sih!! SIAL!! :( Arrrrrrrgggggghhhhhhhhhh.........