ENGLISH
Yesterday evening, my friend and I went to Paris van Java Mall planning to watch a brand new James Bond movie,
Casino Royale
. This film is probably one of the most booming film I have ever watched in cinema. The cinema (Blitz Megaplex), played this film every hour. After buying the tickets (the film would start at 5 PM), we went to buy drinks and snacks at Carrefour (it's a lot cheaper to buy those snacks at the supermarket than buying at the cinema).
Then, the film started at 5 PM and the room was almost full of people (it was a big room). This is the synopsis of the film (copied from
here
):
Casino Royale introduces James Bond before he holds his license to kill. But Bond is no less dangerous, and with two professional assassinations in quick succession, he is elevated to '00' status. Bond's first 007 mission takes him to Madagascar where he is to spy on a terrorist, Mollaka. Not everything goes to plan and Bond decides to investigate, independently of MI6, in order to track down the rest of the terrorist cell. Following a lead to the Bahamas, he encounters Dimitrios and his girlfriend, Solange. He learns that Dimitrios is involved with Le Chiffre, banker to the world's terrorist organizations. Secret Service intelligence reveals that Le Chiffre is planning to raise money in a high-stakes poker game in Montenegro at Le Casino Royale. MI6 assigns 007 to play against him, knowing that if Le Chiffre loses, it will destroy his organization. 'M' places Bond under the watchful eye of the beguiling Vesper Lynd. At first skeptical of what value Vesper can provide, Bond's interest in her deepens as they brave danger together and even torture at the hands of Le Chiffre. In Montenegro, Bond allies himself with Mathis MI6's local field agent, and Felix Leiter who is representing the interests of the CIA. The marathon game proceeds with dirty tricks and violence, raising the stakes beyond blood money and reaching a terrifying climax.
As (almost) everyone knows, the new James Bond is Daniel Craig, replacing Pierce Brosnan and somehow this became a controversy in the past (which I don't really care). Overall, I think this film was good enough. I like this movie better than the previous one, Die Another Day since it seems to be more "real" (in Die Another Day, the Bond's car was invisible which for now is an impossible thing, that's one thing). I think this could be a good pre-sequel of the whole James Bond movies. At least, yesterday I didn't yawn nor felt sleepy when the movie was being played... :)
::: Eva Green (as Vesper Lynd), Daniel Craig (as James Bond), and Caterina Murino (as Solange) at Casino Royale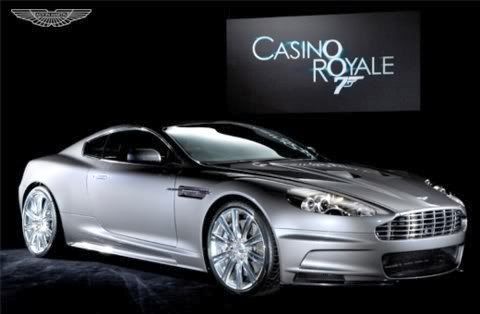 ::: Bond's Car, Aston Martin

BAHASA INDONESIA
Kemarin sore, temenku sama aku pergi ke Mall Paris van Java untuk menonton film terbaru dari James Bond,
Casino Royale
. Film ini mungkin adalah salah satu film paling booming yang pernah aku tonton di bioskop. Bioskopnya (Blitz Megaplex), memainkan film ini satu jam sekali. Habis membeli tiketnya (filmnya bakalan mjulai jam 5 sore), kita pergi beli minuman dan snack dulu di Carrefour (lebih murah loh beli snack di supermarket daripada beli snack itu di bioskopnya).
Trus, filmnya mulai jam 5 sore dan ruangannya hampir penuh loh (ruangannya besar juga tuh). Ini di bawah sinopsis dari filmnya (dikopi dari
sini
dan aku terjemahin):
Casino Royale menceritakan James Bond saat dia belum mendapatkan izin membunuhnya. Tetapi Bond bukan berarti lebih tidak berbahaya, dan dengan 2 pembunuhan profesional dalam misi yang sukses, dia dipromosikan / naik status menjadi '00'. Misi pertama Bond sebagai 007 membawanya ke Madagaskar dimana dia harus memata-matai teroris, Mollaka. Nggak semuanya berjalan sesuai dengan rencana dan Bond memutuskan untuk menginvestigasi, secara independen (sendiri) MI6, untuk melacak terorisnya. Mengikuti petunjuk yang didapatnya ke Bahama, dia bertemu dengan Dimitrios dan pacarnya, Solange. Dia menemukan bahwa Dimitrios terlibat dengan Le Chiffre, seorang bankir dari organisasi teroris dunia. Intelijen Rahasia menemukan bahwa Le Chiffre sedang berencana untuk mendapatkan uang dengan bermain poker kelas atas di Montenegro di La Casino Royale. MI6 menugaskan James Bond untuk bermain melawannya, mengetahui kalau Le Chiffre kalah, berarti kehancuran bagi organisasinya. 'M' mengutus James Bond dibawah pengawasan Vesper Lynd. Awalnya, kecurigaan tampak pada Vesper, ketertarikan Bond padanya menjadi semakin dalam setelah menghadapi bahaya bersama dan dianiaya oleh Le Chiffre. Di Montenegro, Bond bekerjasama dengan Mathis, orang lokal agen dari MI6, dan Felix Leiter, seorang utusan dari CIA. Permainan kemudian berlangsung dengan trik-trik kotor dan kekejaman, meningkatkan taruhan dengan uang berdarah dan mencapai klimaks yang menegangkan.
Seperti yang (hampir) semua orang tahu, James Bond yang baru adalah Daniel Craig, menggantikan Pierce Brosnan dan ini menjadi kontroversi beberapa waktu yang lalu (yang nggak gitu aku urus). Secara keseluruhan, aku rasa filmnya bagus juga. Aku lebih suka film ini daripada yang sebelumnya, Die Another Day, soalnya ini kelihatan lebih "nyata" (di Die Another Day, mobil Bond-nya bisa nggak kelihatan, sesuatu yang sangat mustahil untuk saat ini, itu satu hal). Menurutku ini bisa menjadi pre0sekuel yang bagus untuk keseluruhan film Bond. Paling nggak, kemarin aku nggak menguap atau merasa ngantuk waktu nonton filmnya... :)