ENGLISH
Well, here I am. I am already in Delft, the Netherlands and now I am writing my first entry written from outside Indonesia, and even more spectacularly, outside Asia! At first, I planned to write in more details about my trip and my first week here in Europe, but then I realized that many things have been going on and I have to catch up, right? Thus, I canceled the detail-ic entry. So here we go.
I caught Garuda Indonesia's flights from Yogyakarta to Amsterdam. I caught GA 211 (with Boeing 737-86N reg code PK-GEI) and continued my trip with GA 088 (with Airbus A330-243 reg code PK-GPI) which transited in Dubai. I had 5 hours to kill in Jakarta and lucky I found a lounge which accepted my credit card. Well, I had a slight minor problem about my baggage and luckily I was able to solve it. By the way, I went on this trip with several other friends.

Anyway, I think Dubai International Airport was really cool, but we did not have that much time to explore it as we only had one hour of transit and in between, when we got off the plane, we had to exchange our boarding pass with a number, which triggered a long line in the air bridge.

The trip took 17 hours in total (from Jakarta) and it was damn tiring, no kidding!! Lucky Garuda served good foods and the new entertainment system definitely helped a lot!! Anyway, so we finally landed on Thursday, August 19, 2010 at 9 AM LT at runway 27 of Schiphol International Airport, in Amsterdam.

The problem had not ended yet. After taking all our luggage, we went to the "Welcome Desk" of my university to register ourselves and waited for the bus to come for us (yes, this is such a cool service provided by my university, TU Delft). There were several problems: we arrived late (GA 088 was supposed to arrive at 8 AM), the bus was trapped in a traffic jam, and another bus was broken; and this forced us to wait for another 3.5 hours at Schiphol Airport! Well, at 1 PM, we our buses finally came and I could directly go to my new apartment at Delft.


My first impression about this country was : it was so

cold

! During our 3.5 hours of waiting at Schiphol Airport, I decided to look around and walked outside the terminal building. The crazy thing was that it was much cooler in the outside than the inside, and (supposedly) it was in the summer!! Crazy!!


The weather in the Netherlands has also been really crazy. Having been here for one week, I think I have experienced many kind of weathers. I have experienced shiny day (nice one), cloudy day, rainy day, and the worst one: windy day. Well, windy day might be okay if the wind is just a "normal" wind. What I have experienced was that the wind was so crazily strong and it literally almost flew me away!! It was kinda hard to walk as we had to fight against the wind!! Wow, crazy!! I think I have to get used to it.



Well, enough for the downs, I have also experienced so many ups here and I do enjoy it!! I have not really been going around the country because I also have to settle myself down first at the moment, but I have had trips to go around Delft and also Den Haag. Den Haag is a much bigger city nearby Delft. The city is really touristy and it is really nice!! Totally love it!


Living in the Netherlands makes me feel like a villager from a secluded village who just moved to a big metropolitan city with all the development. It is so awesome here!! The public means of transportation is really cool (even though it is a bit confusing at times), the internet connection is incredibly super fast, the technology fascinates me (just like a "clicker" we all had for conducting a real-time polling during a Plenary Session of my Introduction Week earlier today), and the people are really professional.



I have also found several things in the Netherlands which are in a complete difference with the exact same situation in Indonesia. For instance, after having meal, we have to put the tray, plate, spoon, fork, knife, etc on a determined place. Another example, when we buy something in the supermarket and we need to weigh it, we have to weigh it ourselves and press the button to get the price label. In Indonesia, there is an employee who does that for us. Still in the supermarket, here we have to put all our stuffs we purchase on the table before we get to the cashier, then put the shopping basket on its place, and put a separator to separate our stuffs with other people's. In Indonesia, all of these do not take place, hahaha.

Well, at first it was kinda confusing but this is one thing I WANTED to experience when I live in a different part of the world. It is interesting!! :-)

In other hand, there is also a funny story. There was one Introduction Activity called the "Indonesian Dinner" where the participants would have Indonesian cuisines as the dinner (and I joined it, hahaha). It was an open activity and most of the participants were non-Indonesian (it made sense, because there are only (relatively) few number of Indonesian students here). Anyway, of course these foreigners were not used to eat Indonesian style, and thus they ate rice using fork and knife. Well, it was not such a big deal actually and it was okay because they did not know anything about it, but still it was kinda funny, you know.


Living in Europe is costy, of course, compared to living in Indonesia. I have to adjust myself so that I am financially fine. One thing I did to cope with that was cooking. Well, it is true that I did some cooking when I was in Bandung (you can find in several old entries), but it is different now. Back in Bandung, I cooked unhealthy and instant meal all the time, like corned beef, ma ling, instant noodles, ham, etc. Now, I cook something A LOT healthier. For example: real meat, eggs, veggies, spices, tempe, tofu, and also olive oil.

The problem is that I do not know how to cook that kind of meal,

at all

. So, I just basically put anything in a frying pan, put some random spices and saucing without knowing how it will taste in the end. The result? It is not that bad, I think I like my random cooking, hahaha...


Talking about my university life, well, the class has not started yet but some introduction activities have been held. So far, the activities have been so much fun!! I got to know many people from every corner of the world (but I have not met anyone from Australia though). I also gotta work together with them as a team working on a project. It has been super fun.

Well, that is all I have for today. In the end, I am
LOVING
my new life in Europe and I think I will have a great time here!!
L : Garuda Indonesia's Boeing 737-86N reg code PK-GEI which brought me to Jakarta as GA 211.
R : Taking off passing the city of Yogyakarta.
L : On board Garuda Indonesia's Airbus A330-243 reg code PK-GPI.
R : Dubai International Airport.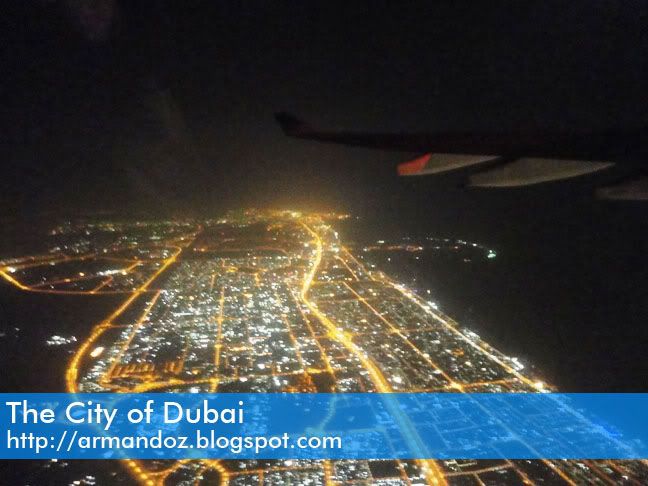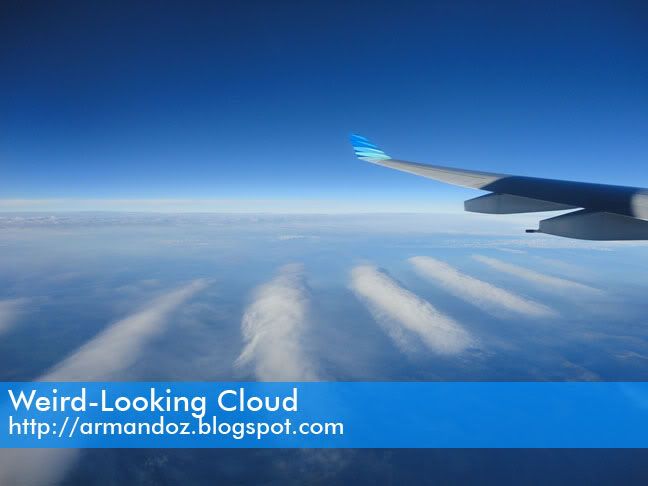 L : Taking off from Dubai Airport. The Palm and Burj Al Arab are visible.
R : Cool cloud in a cool formation.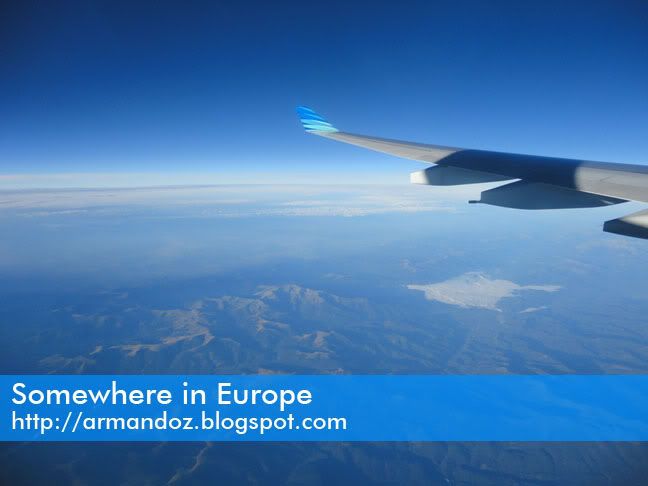 L : Somewhere above Europe, Cool!!
R : Waiting for the bus.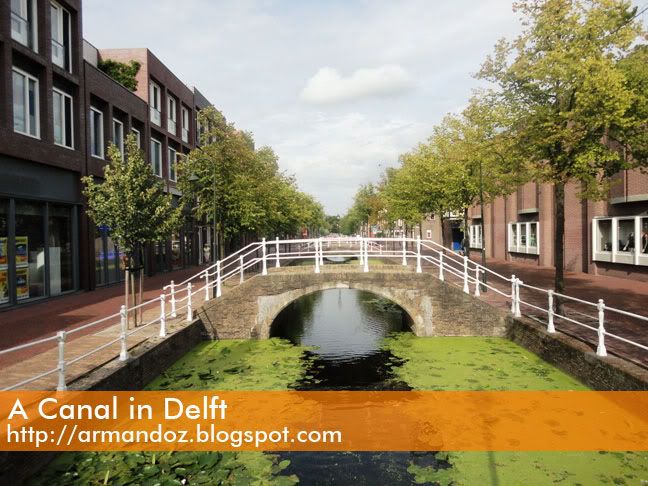 L : A Very Typical Windmill in the Netherlands
R : A Canal in Delft.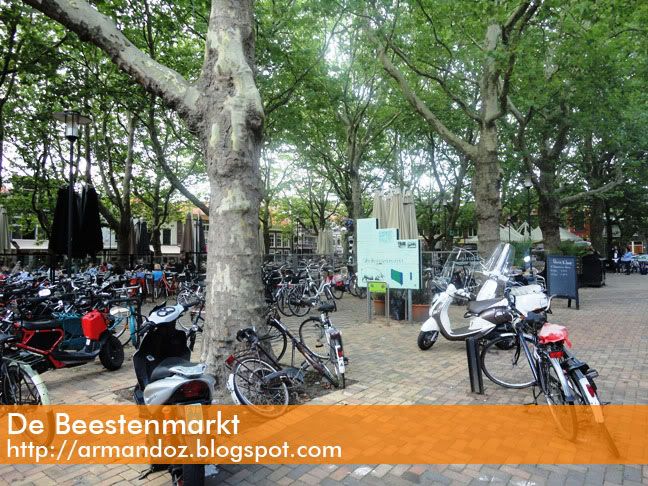 L : Another Canal in Delft.
R : The famous Beestenmarkt in Delft.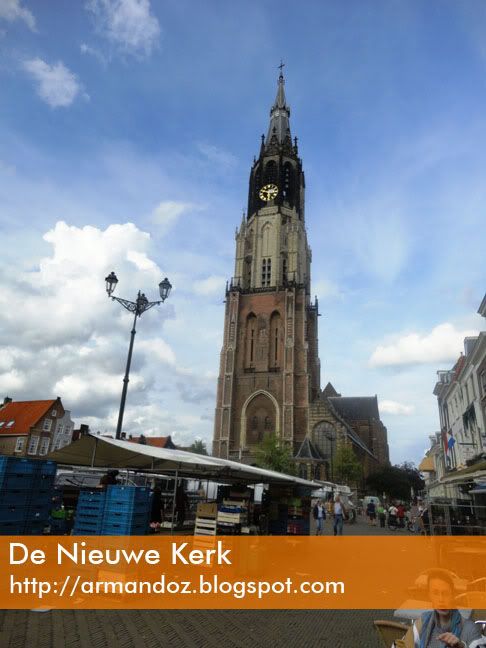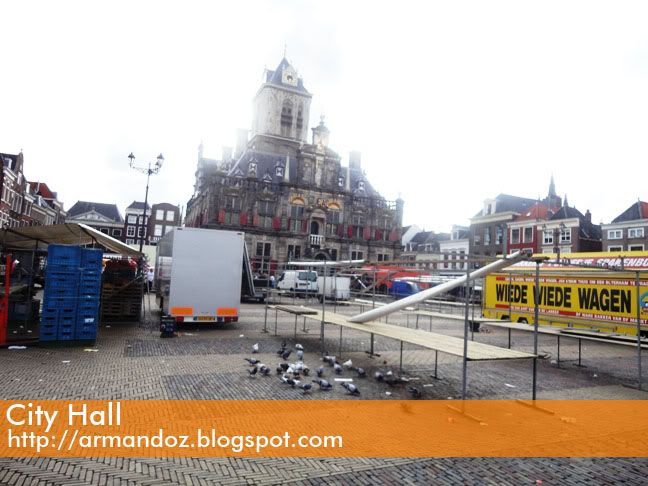 L : The New Church in Delft.
R : The City Hall in Delft.
L : In My Campus.
R : Delft Railway Station.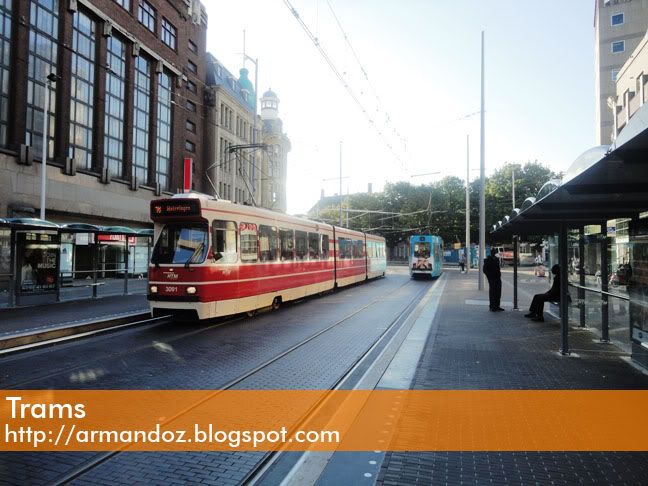 L : Den Haag Centrum.
R : Trams in Den Haag.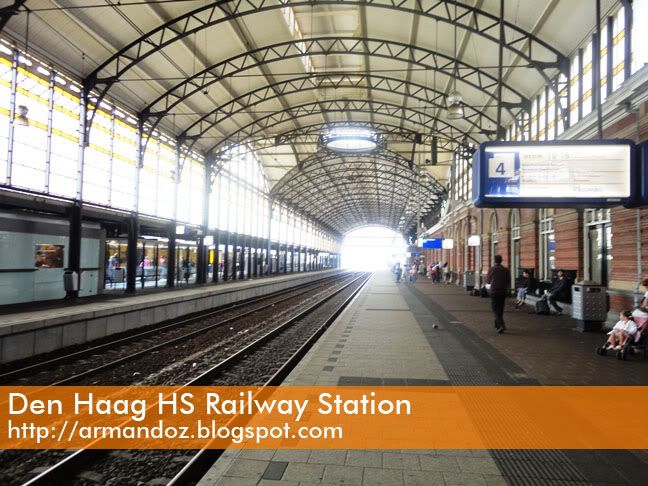 L : Den Haag HS Railway Station Spoor 4.
R : At Hofvijver, Den Haag.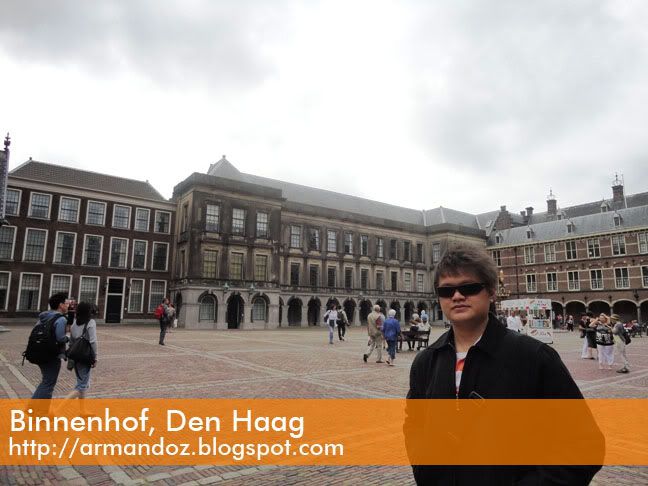 L : Binnenhof, Den Haag.
R : Binnenhof, Den Haag.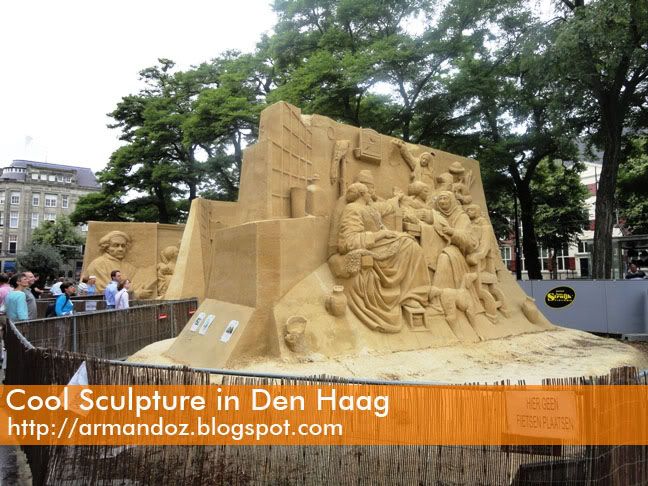 L : A cool sculpture made from sand.
R : A really honest and funny sign :-)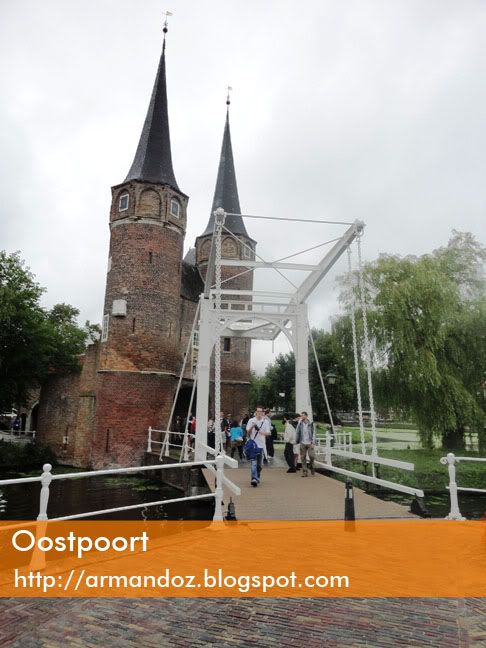 L : The Oostpoort in Delft.
R : The Oostpoort in Delft.
L : A Double-Decker Train!!!
R : The Hambrug in Delft.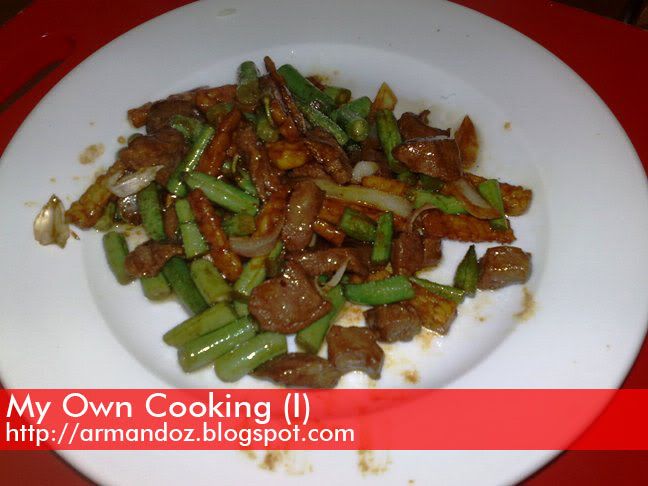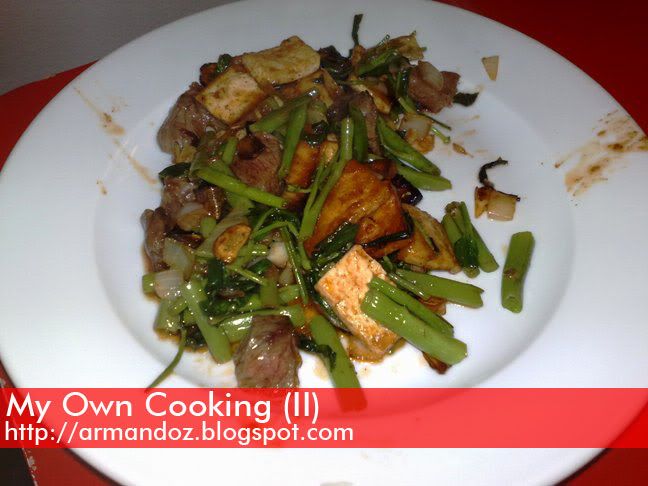 L : My Cooking
R : My another cooking

BAHASA INDONESIA
Halo, disinilah diriku sekarang. Sekarang aku sudah berada di kota Delft, di Belanda dan sekarang aku sedang menulis
posting
pertamaku yang ditulis dari luar Indonesia, bahkan yang lebih spektakuler, di luar Asia! Pertamanya aku berencana menulis perjalananku dan minggu pertamaku di Eropa dengan lebih detail, tetapi aku kemudian sadar bahwa ada banyak sekali hal yang terjadi dan aku harus segera menuliskan semuanya kan? Makanya nggak jadi nulis detail deh. Mari kita mulai.
Aku naik penerbangannya Garuda Indonesia dari Yogyakarta menuju Amsterdam. Aku naik GA 211 (dengan pesawat Boeing 737-86N kode registrasi PK-GEI) dan melanjutkan penerbangan dengan GA 088 (dengan pesawat Airbus A330-243 kode registrasi PK-GPI) yang

transit

di Dubai. Aku memiliki waktu 5 jam untuk dihabiskan di Jakarta dan untungnya aku menemukan sebuah

lounge

yang menerima kartu kreditku. Btw, aku mengalami sedikit masalah dengan bagasi dan untungnya semuanya bisa beres. Ngomong-ngomong, dalam perjalanan ini aku bertemu dengan beberapa teman.

Ngomong-ngomong, aku rasa Bandara Internasional Dubai sangatlah keren, tapi kami nggak memiliki banyak waktu untuk berkeliling karena kita hanya memiliki waktu satu jam untuk transit, ditambah lagi selama waktu itu, ketika baru saja keluar dari pesawat, kami harus menukar

boarding pass

dengan nomor gitu, yang menyebabkan terjadinya antrian panjang di gabarata.

Perjalanannya memakan waktu total 17 jam (dari jakarta) dan itu sangatlah melelahkan, nggak bercanda nih!! Untungya Garuda memberikan makanan yang enak dan sistem hiburan yang baru benar-benar membantu sekali tuh!! Yah, akhirnya di hari Kamis tanggal 19 Agustus 2010, kami mendarat jam 9 waktu lokal di landasan pacu 27 Bandara Internasional Schiphol, di Amsterdam.

Masalah belum berakhir. Setelah mengambil semua barang kami, kami pergi ke "

Welcome Desk

" yang disediakan universitasku untuk mendaftar dan menunggu bus untuk datang menjemput kami (yup, ini fasilitas yang super keren dari universitasku, TU Delft). Namun, ada beberapa masalah :kami tiba terlambat (GA 088 seharusnya mendarat jam 8 pagi), busnya terjebak macet, dan bus lain lagi rusak; dan ini memaksa kami untuk menunggul selama 3,5 jam lagi deh di Bandara Schiphol! Akhirnya jam 1 siang, busnya tiba dan mengantar kami langsung ke apartemen di Delft.


Impresi pertamaku tentang negara ini adalah:

dingin

banget sih! Selama menunggu 3,5 jam di Bandara Schiphol, aku memutuskan untuk jalan-jalan keliling dan keluar dari gedung terminalnya. Hal gilanya adalah di luar ternyata lebih dingin daripada di dalam, dan padahal (seharusnya) sekarang ini kan sedang musim panas!! Gila!!


Cuaca di Belanda juga gila nih. Sudah tinggal selama seminggu disini, aku rasa aku sudah mengalami banyak macam cuaca. Aku sudah mengalami hari yang cerah (asik nih), hari berawan, hari hujan, dan yang paling buruk: hari berangin. Yah, hari berangin masih nggak masalah sih kalau anginnya itu "normal-normal" saja. Masalahnya, aku sudah merasakan angin yang sangat kuat sekali dan secara harafiah hampir menerbangkan diriku loh!! Susah banget untuk berjalan dalam kondisi kaya gitu soalnya kita harus melawan kekuatan anginnya!! Gila deh!! Tapi aku harus membiasakan diri nih.



Cukup ah sama hal yang menyebalkan, aku juga sudah merasakan hal menyenangkan dan tentu saja aku menikmatinya!! Aku sih jelas belum terlalu mengelilingi negaranya ya karena kan aku juga harus membuat diriku nyaman disini dulu dong sekarang, tapi aku sudah berkesempatan untuk berkeliling Delft dan juga Den Haag. Den Haag adalah kota yang jauh lebih besar di dekat Delft. Kotanya sangat cocok untuk turis dan asik banget tuh!! Benar-benar suka nih sama kotanya!!



Tinggal di Belanda membuatku merasa seperti orang desa dari desa terpencil yang baru saja pindah ke kota metropolis sangat besar dengan segala kemajuannya. Disini keren sekali!! Angkutan umumnya sangat keren (walau kadang-kadang agak membingungkan juga), koneksi internetnya cepet bukan main, teknologi2nya mengejutkanku (misalnya "

clicker

" yang kami dapat tadi yang berguna untuk mengadakan

polling

dalam waktu sebenarnya di Sesi Pleno dari Minggu Perkenalan siang tadi), dan juga orang-orangnya sangat profesional.



Aku juga menemukan beberapa hal di Belanda yang sangat berbeda dengan situasi yang sama persis di Indonesia. Misalnya saja, setelah makan, kita harus mengembalikan nampan, piring, sendok, garpu, pisau, dll ke tempat yang sudah disediakan. Contoh lain, ketika kita membeli sesuatu di supermarket dan ingin menimbangnya,l disini kita harus menimbang sendiri dan memencet tombol sendiri untuk mendapat label harganya. Di Indonesia kan ada petugasnya untuk hal ini kan. Masih di supermarket, kita harus menaruh semua barang yang kita beli di mejanya sebelum sampai ke kasir, trus menaruh keranjang belanjaan di tempatnya, dan menaruh pemisah untuk memisahkan barang kita dengan barang orang lain. Di Indonesia, semua hal ini tidaklah terjadi, hahaha.

Yah, awalnya sih agak sedikit membingungkan tapi ini adalah satu hal yang aku INGIN alami ketika aku tinggal di sisi lain dunia. Menarik kan!! :-)

Di sisi lain, ada hal lucu juga. Ada sebuah kegiatan pengenalan bernama "Indonesian Dinner" dimana peserta akan makan malam masakan Indonesia (dan aku ikut, hahaha). Pesertanya terbuka dan kebanyakan orang asing yang ikut (iyalah, mahasiswa Indonesianya (relatif) cuma sedikit sih). Nah, orang asing ini kan tidak biasa makan masakan Indonesia, mereka makan nasi dengan menggunakan pisau dan garpu. Yah, nggak masalah sih dan wajar karena mereka nggak tahu dan nggak biasa, cuma agak lucu saja melihatnya.



Hidup di Eropa itu mahal, tentu saja, dibandingkan dengan hidup di Indonesia. Aku harus menyesuaikan diriku agar kondisiku "masuk" secara keuangan. Satu hal yang kulakukan adalam memasak. yah, memang benar bahwa aku memang memasak sedikit ketika aku berada di Bandung (bisa ditemukan tuh di beberapa

posting

lama), tetapi sekarang berbeda. Di Bandung, aku hanya memasak masakan instan dan tak sehat, misalnya cornet, ma ling, ham, mi instan, dll. Sekarang aku memasak bahan-bahan yang JAUH lebih sehat, misalnya, daging beneran, telur, sayur-sayuran, bumbu-bumbu, tempe, tahu, dan juga dengan minyak zaitun.

Masalahnya, aku nggak tahu cara memasaknya,

sama sekali

. Jadi, aku cuma memasukkan asal aja semua bahan di wajan penggorengan, memasukkan bumbu dan saus dengan

ngawur

, tanpa tahu bagaimana rasa hasilnya. Hasilnya? Lumayan juga, aku rasa aku suka masakan

ngaco

-ku, hahaha...


Ngomong-ngomong tentang kehidupan universitasku, yah, kelas masih belum dimulai tetapi beberapa aktivitas perkenalan sudah diadakan. Sejauh ini, aktivitasnya sangat menyenangkan!! Aku berkenalan dengan banyak orang dari setiap penjuru dunia (walau aku belum ketemu orang dari Australia sih). Aku juga harus bekerja sama bersama mereka sebagai sebuah tim untuk mengerjakan suatu tugas. Menyenangkan deh

Yah, ini dulu yang aku punya sekarang. Pokoknya, aku
SUKA BANGET
sama kehidupan baruku di Eropa dan aku rasa aku akan menjalani waktu yang sangat menyenangkan disini!!