ENGLISH
Another week is coming to an end and here I am now, two days short from the month of September. Well, according to my university's schedule, my first day of lecture is supposed to be tomorrow. However, because there will be an obligatory event that my faculty will hold (the "Masters Kick Off" (MKO) event), there will be no classes next week (MKO will take four days and I still have no idea where it will be held). I am really looking forward to it!!
Anyway, the university's Introduction Week officially ended last Thursday, and I stupidly missed the closing party where we could eat and drink anything for FREE and the attenders also got backpacks. Damn fatigue!! Had I known the closing party would be like "that", I would not have left early, LOL.
Last Saturday, my friends and I had a trip to Rotterdam, another big city located not far from Delft (just about 12 minutes with train from Delft Station). We departed as a pretty big group but split up once we were in Rotterdam as there were so many preferences among the members. Anyway, Rotterdam is very different from Den Haag. Rotterdam is more "modern" with all the skyscrapers while Den Haag is more "classical" with all the classic European architectures. As a place for tourist, I think Den Haag is way more interesting than Rotterdam.
In Rotterdam, we visited the Erasmusbrug (Erasmus Bridge), then we walked all the way to Euromast, a tower in Rotterdam, which was a really long way. Having made all he efforts, of course we MUST get into the Euromast and climb up to the deck. After paying 8.90 euro pp, we all boarded the elevator which brought us up to the deck at 96 meter above the ground. It was really cool up there (both literally and figuratively)!! Well, I do not know how to describe it (as mainly we saw the city of Rotterdam and its neighborhood up there) so I put a panoramic picture below. There was also an extreme and daring thing to do: rappelling down a rope to get to the ground. I still love my life and so I did not take that one, LOL. Anyway, there was also a "Space Tower" up there where we could embark on a spinning observatory room and got an "extra" 85 meter of height off the ground. After spending about 45 minutes up there, we decided to get down.
Our next destination was the "Kubushuis" but there was a problem: Euromast and Kubushuis were located in an opposite direction from Erasmus Bridge. We came to a decision to put Euromast as our first destination, then caught a Metro (subway) to go to Kubushuis. OOT, owning an
OV-Chipkaart
is a must when we live in the Netherlands as to get to a Metro, we must have this card. Back to topic, after walking to a Metro Station (the name of the station was cool : Coolhaven"), we arrived at the kubushuis. Kubushuis is a unique housing with "oblique" cubes as the "houses". And that was it, nothing else really special about this place.
Then, we walked to the centrum (some friends bought so many snacks, like tapas, haring, etc on the way) and had dinner there at an Italian Pizzeria. After dinner, we walked back to Rotterdam Centraal Station and got a train back to Delft (and I realized that I stupidly lost my return ticket and I had to buy another one :-( But lucky my friend owned a kortingkaart (discount card) so I still got a 40% off). At Delft, it was 7.30 PM and the weather was so shiny (in the summer, the son sets at around 9 PM here) and (seemingly) good. We decided to go on another impulsive ride to: Scheveningen (in northern Den Haag)!! However, typical Netherlands, the "mood" of the weather somehow changed and it rained! F**k!! Once we arrived at Scheveningen, it was raining and so windy!! We got wet but survived to make it to a bar where we had nice hot drinks. After chit-chatting, it was already 9.45 PM and we gotta get back to Delft using a tram. At Delft, we narrowly missed the bus number 40!! Damnit!! It only departed once in one hour on Saturday so we had to wait for another hour or chose another line. We picked the latter, and finally I arrived at my apartment at about 11.30 PM.
L : The upper-deck of my train to Rotterdam. I was so excited to ride this train as I had never been on a double-decker train before, LOL.
R : The city of Rotterdam, as seen just next to Rotterdam Centraal Station.
L : De Stadhuis op Rotterdam.
R : A classic steamboat at an exhibition.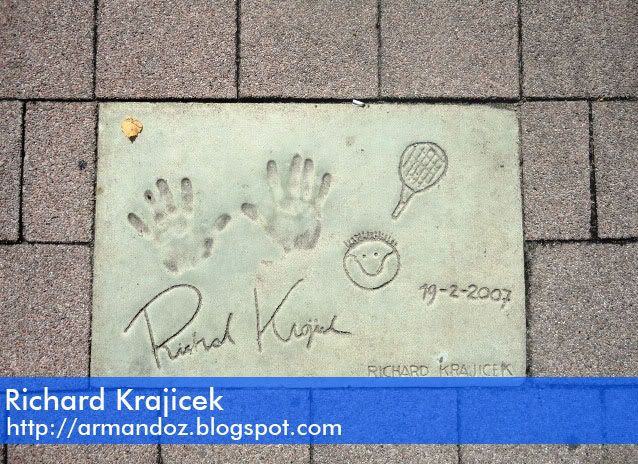 L : Richard Krajicek, a Dutch tennis player who won Wimbledon's Gentlemen's Singles in 1996.
R : Vanessa Williams.
L : Bon Jovi.
R : Erasmusbrug (Erasmus Bridge)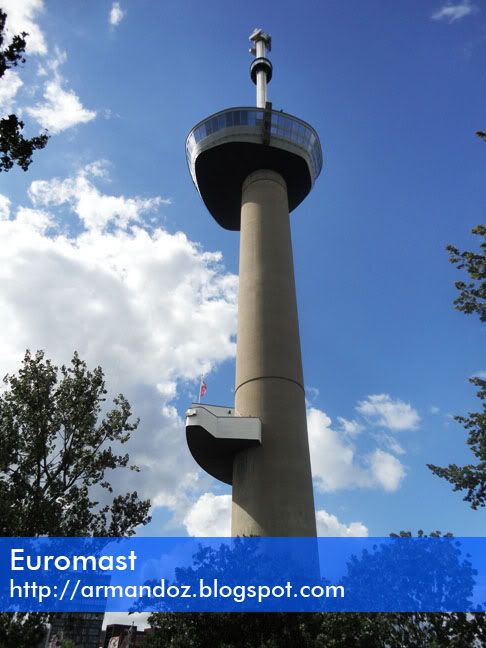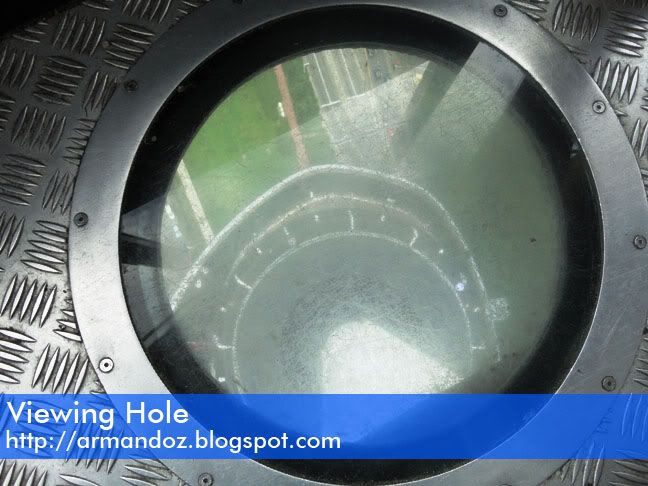 L : Euromast.
R : They put this hole in the spinning observation room at the "Space Tower:
Panoramic Views of Rotterdam taken from 96 meters above the ground at Euromast.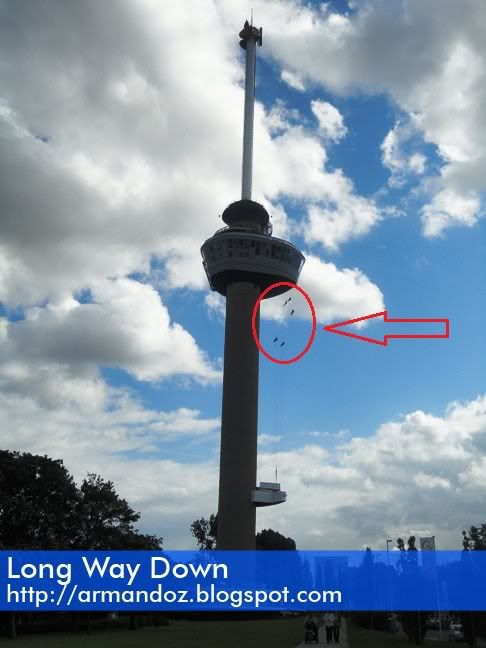 L : Each person can choose his/her way back down, and they chose this way.
R : Inside the Metro in Rotterdam.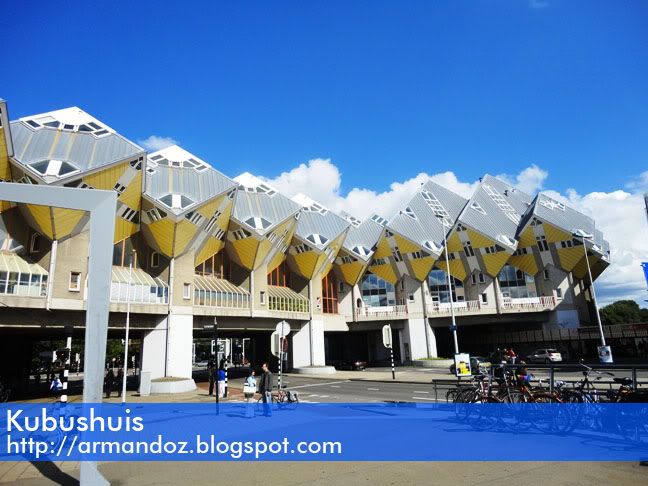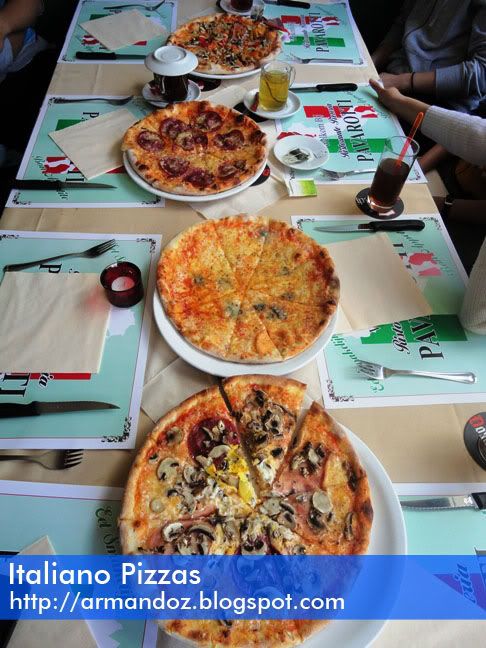 L : Kubushuis, unique buildings.
R : Four Italian Pizzas.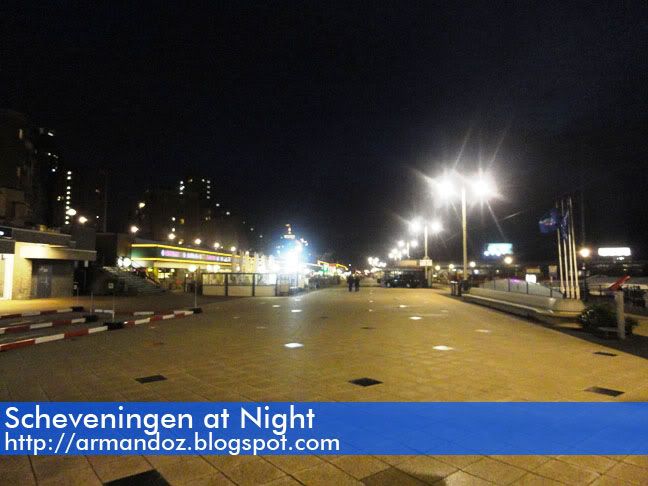 L : Scheveningen at Night.
R : Scheveningen at Night.

BAHASA INDONESIA
Satu minggu telah berakhir lagi dan disinilah kita berada, dua hari sebelum bulan September. Hmm, berdasarkan jadwal universitasku, hari pertama kuliahku seharusnya adalah besok. Namun, karena akan diadakan sebuah acara wajib yang diadakan fakultasku (acara "
Masters Kick Off
" (MKO)), minggu depan ini nggak ada kelas (MKO akan berlangsung selama empat hari dan aku tidak tahu akan diadakan dimana). Tapi aku sudah bersemangat nih!!
Ngomong2, acara Minggu Perkenalan dari kampusku akhirnya telah resmi selesai Kamis lalu, dan aku dengan bodohnya melewatkan pesta penutupan dimana mahasiswa bisa makan dan minum apa pun dengan GRATIS dan bahkan yang datang juga dapet sebuah tas punggung. Dasar rasa capek sialan!! Kalo aku tahu acaranya akan seperti "itu", kan aku nggak pulang duluan karena capek, LOL.
Sabtu kemarin ini, aku dan teman2ku jalan2 ke Rotterdam, sebuah kota besar lain tidak jauh dari Delft (naik kereta cuma sekitar 12 menit). Kami berangkat sebagai grup yang cukup besar tetapi kami memisahkan diri di Rotterdam karena ada beberapa keinginan untuk dilakukan disana.Ngomong2, Rotterdam benar-beanr berbeda dari Den Haag deh. Rotterdam itu lebih "modern" dengan semua pencakar langitnya sementara Delft itu lebih "klasik" dengan semua arsitektur gaya klasik Eropa-nya. Sebagai tempat tujuan turis, aku rasa Den Haag lebih menarik daripada Rotterdam.
Di Rotterdam, kami mengunjungi Erasmusbrug (Jembatan Erasmus), kemudian berjalan kaki menuju Euromast, sebuah menara di Rotterdam, yang letaknya lumayan jauh juga. Karena sudah berjalan sejauh itu, tentu saja dong kami HARUS masuk ke Euromast-nya dan naik ke atas kan. Setelah membayar 8,90 euro seorang, kami naik lift deh menuju dek pengamatan yang terletak 96 meter di atas permukaan tanah. Di atas sana keren banget tuh, juga dingin soalnya anginnya besar banget!! Yah, nggak tahu juga cara mendeskripsikannya (intinya di atas sana ya kami melihat pemandangan kota Rotterdam dan sekitarnya gitu) jadi aku kasi foto panorama di atas sana yah. Ada juga hal yang ekstrim dan menantang untuk dilakukan: turun ke tanah dengan menggunakan tali. Aku sih masih mencintai hidupku makanya aku nggak mau deh naik tali itu, LOL. Ngomong2, ada juga yang namanya "Space Tower" dimana kita bisa naik sebuah ruang pengamatan yang berputar dan akan naik 85 meter "lagi" ke atas. Setelah di atas selama sekitar 45 menit, kami memutuskan untuk turun.
Tujuan kami selanjutnya adalah "
Kubushuis
" tetapi ada satu masalah:
Euromast
dan Kubushuis berada di lokasi yang berlawanan dari Jembatan Erasmus. Oleh karenanya, kami memutuskan untuk pergi ke
Euromast
dulu, kemudian naik Metro (kereta bawah tanah) menuju Kubushuis.
By the way
, memiliki
OV-Chipkaart
itu adalah suatu keharusan loh kalo kita tinggal di Belanda karena untuk naik Metro, kita harus punya kartu ini. Balik ke cerita, setelah berjalan ke sebuah Stasiun Metro (namanya keren juga: "
Coolhaven
"), kami tiba di
kubushuis
.
Kubushuis
adalah perumahan unik dengan kubus "miring" sebagai "rumah2nya". Dan itu saja sih, nggak ada yang terlalu spesial sama tempat ini.
Lalu, kami jalan ke
centrum
(di perjalanan, beberapa teman beli banyak
snack
, seperti kentang goreng, ikan haring, dll) dan makan malam di sebuah Rumah Makan Pizza Italia. Setelah makan malam, kami berjalan balik ke Stasiun Rotterdam Centraal dan naik kereta balik ke Delft (dan aku kemudian sadar kalau aku dengan bodohnya menghilangkan tiket kembaliku ke Delft jadinya harus beli tiket lagi deh :-( Tapi untungnya temanku memiliki sebuah
kortingkaart
(kartu diskon) jadi aku masih dapat diskon 40% deh). Di Delft, jam menunjukkan pukul 7.30 malam dan cuacanya masih cerah (kalo musim panas matahari kan baru terbenam jam 9 malam) dan (sepertinya) bagus. Kami lalu memutuskan untuk pergi dalam perjalanan implusif berikutnya ke: Scheveningen (di Den Haag utara)!! Namun, tipikal Belanda banget nih, tiba2 aja cuacanya berganti
mood
, dan tiba-tiba jadi hujan deh! A******!! Begitu kami tiba di Scheveningen, hujannya deras dan sangat berangin!! Untungnya kami selamat hingga bisa mengungsi di sebuah bar dan minum minuman hangat disana. Setelah ngobrol2, tiba-tiba sudah jam 9.45 malam dan waktunya balik ke Delft deh naik tram. Di Delft, kami secara tipis ketinggalan bus nomer 40 deh!! Sial!! Bus ini cuma berangkat satu jam sekali di hari Sabtu jadi kami harus menunggu satu jam atau naik jalur lain. Kami memilih naik bus jalur lain, dan akhirnya aku tiba di apartemen jam 11.30 malam.