note: this entry will only be written in English as now I'm quite lazy to write bilingual, hehe

This week,
the fifteenth cycle of The Amazing Race
was premiered with a special 2 hours first episode. TAR has always been one of my most favorite reality show and it really rocks!!

There were 12 teams this season, and a new twist was introduced: One of the twelve team wouldn't even pass the starting line as there were tickets available for 11 teams to get to their first destination, Tokyo, Japan. Eric & Lisa were the unfortunate team as they got eliminated after losing the first challenge, finding correct Shinigawa license plate.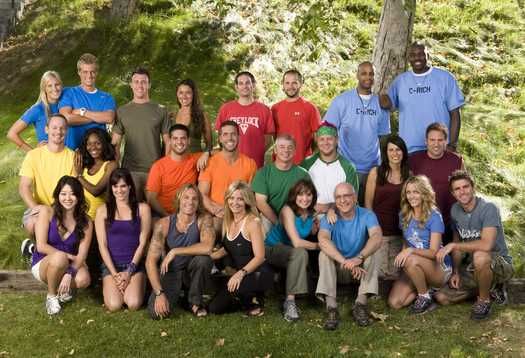 ::: TAR 15 all 12 teams

I think, the new twist was surprising BUT really unnecessary and over the top. Well, I think, the twist has no major effect to the race itself. Usually, the first few eliminated teams will be forgotten quite easily as the show airs. Because of that, why should they add the number of early-eliminated team, even before they left the US? People will forget about them more easily now as we don't watch much of them. We don't even know not get their personality and style. Plus, unfortunately for Eric & Lisa, they had applied for the race, finally beat thousands (I guess?) of applicants to make it to the top 12, but in the end, their dream of racing crushed as they didn't even leave the US. I think they have become somewhat unnecessary "extras" in the show itself.

Anyway, the first leg was also a bit disappointing as there weren't many tasks in Tokyo. They just went to a TV studio, played a game, lead a group of Japanese women to find a shrine, and pitstop. That's it? Hmm, I think that's too short for a "LEG" in TAR.

Even so, the rest of the premier was so GREAT!! I think the race was still really exciting and entertaining, especially the second leg in Vietnam (lucky it was a 2 legs episode, as if it had been only 1 leg premier, it would have been super boring and might have lost some viewers :) ). I like the drama especially around Maria & Tiffany, how they lied about their job (professional poker players). The tasks in Vietnam were also pretty cool to watch.

For now, based on the first two legs, I have three most favorite teams and two potential favorite teams.

1. Megan & Cheyne (dating)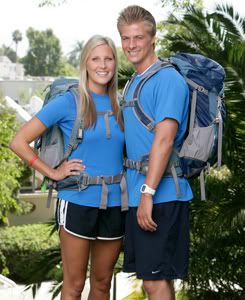 ::: Megan & Cheyne. I like the color of their outfits tho, hehehe

I think based on the first two legs, they are the most competitive team this season. They are fit, strategic, and I think they have what it takes to stay long enough in the race. I like the way how they supported each other, that really makes them a good team.

2. Maria & Tiffany (professional poker players)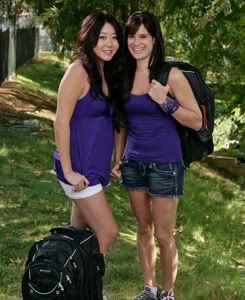 ::: Maria & Tiffany, two professional poker players.

As I said, I think this team is really smart and strategic, and I always like smart and strategic team. That factor could make them a bit devilish at time, and every show needs a villain, right? As their lie (about their jobs as they said the worked for a non-profit organization in LA which helped homeless kids, quite "far" from professional poker players, LOL) had been revealed, some other teams might have plotted them as enemy, that's interesting. I hope they stayed long, hehe.

3. Mika & Canaan (newly dating)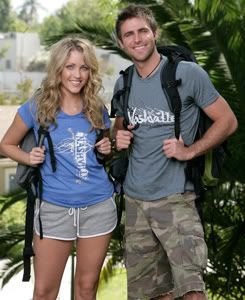 ::: Mika & Canaan. Apparently Mika is a singer and Canaan is a song-writer.

I think this team is interesting, plus they will (probably) be the bickering team of the season. However, based on the first two episodes, it seems that they weren't that strong and might got eliminated quite soon tho, hmmm... .

Two potential favorite teams:

1. Brian & Ericka (married)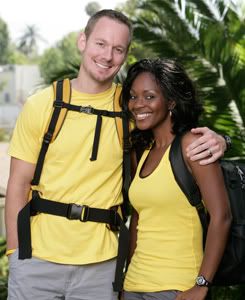 ::: Brian & Ericka.

Ericka is a former Miss USA. It's always be interesting to see how beauty queens handle TAR(A). Would she be like the super competitive Dustin & Kandice (TAR 10, TAR 11), or be like the quite spoiled Natalie Glebova (TARA 3)? Plus, on the second leg, it's quite interesting to see some little fights between her and her husband. It's not that I like seeing couple fighting, no, but it's interesting to see how the effect of the fight interferes their placings on TAR.

2. Sam & Dan (brothers)


::: Sam & Dan

I think they are quite interesting, as they developed what might be a good friendship with Maria & Tifanny. We will see...

The rest of the teams haven't made quite an impression on me, but hey, it has just been one episode, still many to come and they might change my mind!

Anyway, TAR rocks!! hehe