ENGLISH
Well, nothing much I can write down here since my week has been ordinary. It's just that I hang out with my friends this afternoon, haha, apparently it's better to go out than to just stay at home, even though when it's really crowded and there are traffic jams everywhere out there. Anyway, I think the traffic jam in Yogyakarta this year wasn't as bad as it was last year tho. I dunno it's because of the better traffic management or the number of people visiting Yogyakarta simply goes down, hmmm...
Well, today was fun as my friend was really funny. I mean, it was a bit more "clumsy and silly" funny tho (*sorry if you read this, but it means no offense to you really, hehe*). He ate really much today as my other friend and I were just "stunned" with that, LOL. But today was really fun!!
::: home-made old fashioned steak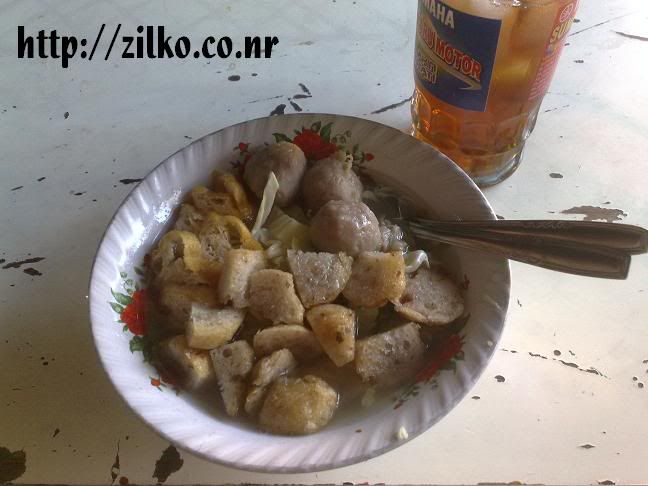 ::: bakso I had yesterday
::: African Lamb Satai I had as dinner today

BAHASA INDONESIA
Yah, ga banyak sih yang bisa ditulis kali ini karena minggu ini ya biasa saja. Cuma aku tadi siang jalan2 sama temen2ku karena ternyata memang jalan2 tuh lebih baik daripada di rumah saja, walau ketika di luar tuh sangat ramai dan kemacetan terjadi dimana-mana. Oya, aku koq merasa tingkat kemacetan Yogyakarta tahun ini tidak separah tahun lalu yah. Entah ini karena pengaturan lalu lintas yang lebih baik atau memang jumlah orang yang pergi ke Yogyakarta berkurang, hmmm... .
Yah, hari ini asik sih soalnya temenku lucu. Kelucuannya itu lebih ke kelucuan "ceroboh dan konyol" sih (*maaf jika orangnya membaca, tapi aku tidak bermaksud buruk koq, hehe*). Dia makannya buanyak banget sampe aku dan temenku yang lain "terpana" karenanya, LOL. Tapi hari ini asik dah!!