note: being currently lazy writing bilingual, this entry will only be written in English :)

The 2009 US Open
was concluded earlier this week and this grandslam was really the most exciting grandslam this year. There were so many surprises (good ones, bad ones) which really wowed everyone. After the infamous
Serena Williams' Outburst
on her semifinal match against Kim Clijsters, two more surprises happened on the final.

O yea, before writing about the surprises, eventually Serena Williams and Venus Williams won the women doubles!! So, this year they have won three grandslam titles!! They beat Cara Black and Liezel Huber, the world no.1s in women doubles and also US Open's defending champion in women doubles, plus their record also stands still as they have never been defeated in any grandslam finals.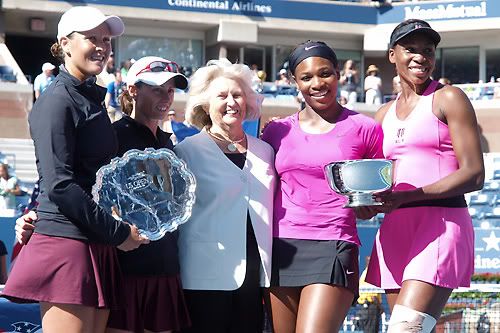 ::: Liezel Huber, Cara Black, Serena Williams, and Venus Williams (after the final ceremony of the women doubles final)

The first one was the victory of Kim Clijsters against Caroline Wozniacki on the women singles. Well, honestly, looking at the quarterfinal draw, I was sure the champion would be from the bottom half, since the only seeded player in the top half was Wozniacki, ranked 9. Of course Wozniacki was favorited to be in the final, which would be her first grandslam final. From the bottom row, only two players were most likely to be in the final, Serena Williams and Kim Clijsters. Evethough it was Kim Clijsters' only third tournament after her comeback (after Cincinnati and Rogers Cup, both were Premier 5 Tournaments), she had been strong and consistent. No wonder, she is still 25 and when she decided to retire 2 years ago, she was ranked 3rd. Also, she played well on her exhibition match against Steffi Graf earlier this May. However, between Serena Williams and Kim Clijsters, at first I thought Serena Williams would easily get through. Apparently, Kim Clijsters could tackle Serena Williams and advanced to the final!!

Between Wozniacki and Clijsters, my guess was Clijsters would win. Simply because Clijsters had more experiences on the tennis world, it wasn't her first grandslam title. While on Wozniacki's side, it was her first grandslam final. Even Jelena Jankovic and Dinara Safina (and also Venus Williams about 10 years ago) failed to win grandslam title on their first grandslam finals. My guess was right, Kim Clijsters won!! WOW!! Being not-ranked, she was able to win a grandslam!! That's a superb accomplishment!! Plus, the really sweet thing was her being devoted to her family, hehe...


::: Kim Clijsters and family

The second surprise was Juan Martin del Potro's victory over Roger Federer. Well, looking at the quarterfinals draw week back, I had a feeling the final would be del Potro vs Federer. It was kinda easy to guess since from the top half group, of course Federer would "easily" win the matches to get to the final. His only big obstacle would be Djokovic, but I believed he would still overcome Djokovic. From the bottom half, after the early loss of Andy Murray, only Rafael Nadal and del Potro who were the strong candidates to be in the final. Well, analyzing based on Nadal and del Potro's current condition, it was kinda obvious that del Potro was slightly in a better form than Nadal. Nadal had just got over from his knees injury which prevented him to defend his French Open and Wimbledon titles, and del Potro had been really strong in some US Open warming up tournaments, winning Washington and nearly Montreal. And yeah, my guess was right (hahaha)! However, from the del Potro vs Federer scenario, I was pretty sure Federer would win. Why? Because Federer was no stranger to grandslam final and US Open (he won the titles 5 years back to back), while it was del Potro's first grandslam final. Just like Wozniacki, I predicted he would struggle with his nevers, plus, he had never won from Federer before.

Apparently, after five gruelling sets, del Potro WON!! I was so surprised to find this news!! Well, the past few months, people had been talking about Federer-Nadal-Murray-Djokovic and the possibility of Murray's first grandslam title. They didn't really talk much about del Potro. And in the end, it was del Potro (not Murray) to win a grandslam this year!! Hmmm, it must be really great for him. However, I still think del Potro needs to prove himself tho. He hasn't been really consistent the whole year (compared to Murray or Federer). But if he can work this out, he will rise to the top. He's still young (at my age!!) and he still have plenty of times ahead!


::: Juan Martin del Potro with his US Open trophy

So, congratulations Kim Clijsters and Juan Martin del Potro for creating sweet world histories!! :)

note: all photos taken from the official site of US Open (link above)