ENGLISH
Last Sunday I got up at 10 AM (I started to sleep at 2.30 AM after watching TV and playing a computer game, he3.... :D). Then, I took a shower, had breakfast and went to an internet cafe near my boarding house. At 1 PM, I walked back to my boarding house. Btw, I still dun have time to watch 24... :(
At 2.30 PM, my friends and I went to Paris van Java just to hang out. There, we went to Gramedia and I bought 2 books, "

Plane Crash

" and "

Why We Want You to Be Rich

" by Donald Trump and Robert T. Kiyosaki. Well, I regretted a bit buying the first book since after skim-reading it, it was not like what I imagined before. It was just like summary and we could get all the data inside from the internet easily. Detail informations and what caused the accidents were not even included inside. So Poor. Arrrrggghhh... . The second one I think is an interesting book. Donald Trump and Robert Kiyosaki wrote a book TOGETHER!! Hmmm.... .
Then, we had dinner at TaWan Restaurant. Actually that restaurant was a specialist in porridge but since I don't really like porridge, so I didn't order porridge, he3... :) I ordered KungPow Chicken and Calamari. Then, at 5.40 PM, I brought my friends back home and I went to a hotspot cafe until 8 PM.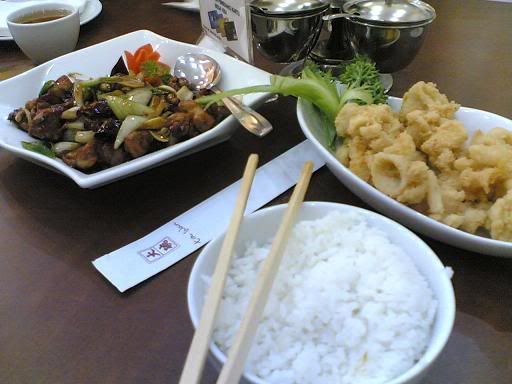 ::: KungPow Chicken and Calamari I ordered yesterday

BAHASA INDONESIA
Minggu kemarin aku bangun jam 10 pagi (aku mulai tidur jam 2.30 pagi tu habis nonton TV sama main sebuah game komputer, he3.... :D). Trus, aku mandi, trus sarapan dan pergi ke warnet di deket kos deh. Jam 1 siang aku balik ke kos. Btw, aku blon sempet ni nonton 24-nya... :(
Jam 2.30 siang, temen2ku dan aku pergi ke Paris van Java untuk jalan-jalan. Disana, kita pergi ke Gramedia dan aku beli 2 buah buku, "

Plane Crash

" dan "

Why We Want You to be Rich

" oleh Donald Trump dan Robert T. Kiyosaki. Hmm, agak menyesal juga sih beli buku yang pertama soale habis membaca cepat, ternyata ga seperti bayangan saya sebelumnya. Bukunya tu cuma kaya ringkasan aja dan semua data di dalamnya bisa kita dapatkan dengan sangat mudah di internet. Informasi mendetail ataupun penyebab kecelakaan bahkan nggak diikutsertakan di dalamnya. Payah. Arrrrggghhh... . Aku rasa, buku yang kedua tu sangat menarik loh. Donald Trump dan Robert Kiyosaki menulis sebuah buku BERSAMA!! Hmmm.... .
Trus, kita makan malam di Restoran TaWan. Sebenere restorannya tu spesialis dalam hal bubur, tapi berhubung saya ga suka sama yang namanya bubur, aku pesan yang lain deh kemarin, he3... :) Aku pesen Ayam KungPow dan Calamari. Trus jam 5.40 sore, aku nganterin temen2ku balik dan aku ke kafe hotspot buat internetan deh sampe jam 8 malem.