ENGLISH

Last Sunday, finally I had my biology competition at UGM Yogyakarta. At 7 AM in the morning I went to my school first (and waited for some other friends). While waiting, I studied for it and read some books (I didn't study the day before, and last Saturday I hanged out with my friends instead of studied). Just to be honest, I didn't have that much passion to win the competition. I don't know why. Probably because this is my last competition and even if I win this competition, the certificate will not be that useful in registering to university. Or probably because I'm not that expert in biology so for me it sounds hard. Then, at 7.40 AM we went to UGM. The competition started at 9.10 AM and finished at 10.40 AM. We had to do 100 multiple choice questions in 90 minutes >> we did that in a group. Well, just like many other competitions, the questions were very hard (not all of them were hard, but most of them were). For example: just wanted to say: "bending the knee", they said: "the knee was in the position of flexi, abduction, and endorotation". Arrgghhh... . They also used the system 2,0,-1 >> 2 points for each correct answer, 0 for leaving each question in blank, and -1 for each wrong answer. From 100 questions my team filled 70. Not all of them we were sure, but most of them were just like gambling. We didn't expect that much after it finished.

The result would be announced at 12.00 PM. Because of that, we had lunch at Jogja Chicken north of faculty of forestry UGM. Then, we went back to the faculty of medical UGM waiting for the result. After waiting for about 40 minutes, finally the result came up. And, unexpectedly, my team sailed through the next round!!! (I think I should tell you the system of this competition first. There are 6 regions, and in each region, they took the best 10 teams, so they got 60 teams. And they also picked 4 more teams with the highest scores from all contestants,and they got 64 semi-finalists). My school sent 6 teams to this competition, and 4 team went through.... . We will have the next round next Saturday....

This morning, I had my final practical examination for Bahasa Indonesia. There were 3 questions, all about writing, and we had to do them in 120 minutes. It was not very hard, but the scoring, for me, is very hard..... . :( After that, I went to the physics lab to study for the final exam next Wednesday. My teacher was da*n cruel. She changed one experiment just 4 days before the day without telling it to us (it's still unfair even if she told it to us, because we had already prepared and studied hard for it, and now she just easily changed it to another one which means that we have to study it once again from zero).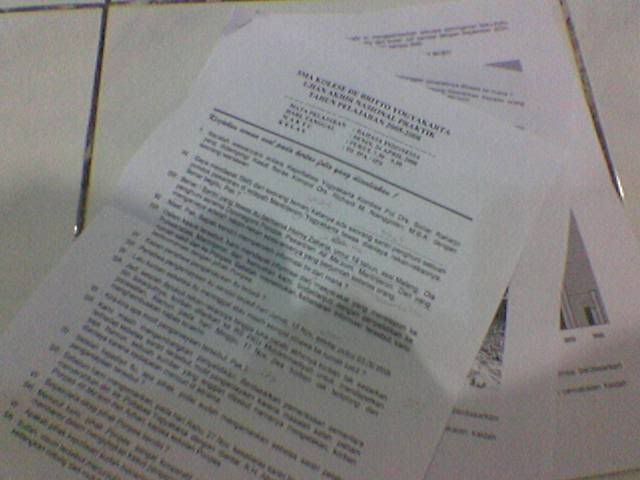 ::: My Bahasa Indonesia final practical examination question sheet



INDONESIAN

Hari Minggu kemarin akhirnya aku mengikuti lomba biologi di UGM Yogyakarta. Jam 7 pagi aku pergi ke sekolahku dulu (dan menunggu beberapa temen yang lain). Sambil menunggu, aku belajar untuk itu dan membaca beberapa buku (aku nggak belajar sebelumnya, dan Sabtu kemarin aku malah pergi sama temen-temenku).Jujur aja deh, aku nggak punya nafsu yang membara untuk memenangkan lomba ini. Aku nggak tahu kenapa. Mungkin gara-gara ini adalah lomba terakhir dan bahkan kalo misalnya aku menang, piagamnya nggak bakalan berguna banget untuk mendaftar ke universitas. Atau mungkin karena aku nggak gitu ahli di biologi jadi kesannya susah banget. Trus jam 7.40 pagi kami pergi ke UGM. Lombanya dimulai jam 9.10 pagi dan selesai jam 10.40 pagi. Kita mesti ngerjain 100 soal pilihan ganda dalam waktu 90 menit >> kita melakukannya dalam grup. Hmm, kayak lomba-lomba yang lainnya, soal-soalnya susah banget (nggak semuanya sih, cuma kebanyakan gitu). Misalnya aja: mau bilang: "menekuk lutut", eh ditulisnya malah: "lutut berada dalam posisi fleksi, abduksi, dan endorotasi". Arrgghhh... . Mereka juga pake sistem 2,0,-1 >> 2 untuk setiap jawaban yang benar, 0 untuk jawaban yang kosong, dan -1 untuk setiap jawaban yang salah. Dari 100 pertanyaan kita ngerjain 70 soal. Bukan berarti kesemuanya yakin bener, tapi kebanyakan lebih ke untung-untungan. Kita nggak berharap banyak habis lombanya selesai.

Hasilnya bakalan diumumin jam 12 siangnya. Karena itu, kita makan siang dulu di Jogja Chicken di sebelah utartnya Fakultas Kehuatanan UGM. Trus, kita balik lagi ke Fakultas Kedokteran UGM untuk menunggu hasilnya. Habis nunggu sekitar 40 menit, akhirnya hasilnya keluar. Dan, nggak terduga, teamku berhasil masuk ke babak selanjutnya!!! (kayaknya aku mesti nulis dulu sistem dari lomba ini deh. Jadi tuh ada 6 daerah, dan di setiap daerah, diambil 10 team dengan nilai terbaik, jadi didapatkan 60 team. Trus, diambil lagi 4 team dengan nilai tertinggi dari keseluruhan kontestan yang tersisa, jadi mereka mendapatkan 64 semifinalis). Sekolahku ngirim 6 team dan 4 diantaranya masuk... . Babak selanjutnya bakalan diadain besok Sabtu...

Pagi ini, aku ada ujian akhir praktek untuk Bahasa Indonesia. Ada 3 pertanyaan, semuanya tentang menulis, dan kita mesti ngerjain dalam 120 menit. Nggak susah-susah amat, cuma penilaiannya yang susah banget.... :( Habis itu, aku pergi ke laboratorium fisika untuk belajar ujian praktek akhir besok Rabu. Guruku bener-bener kejam dan s****n. Dia ngganti salah satu eprcobaannya hanya 4 hari sebelum hari-Hnya tanpa bilang apa-apa ke kita (bahkan walaupun dia bilang ke kita itu juga tetep nggak adil soalnya kita kan dah persiapan dan belajar keras untuk itu, dan sekarang dia dengan gampangnya mengganti menjadi yang lainyang artinya kita harus belajar itu sekali lagi dari nol).