ENGLISH
First of all, I wanna say:
HAPPY KARTINI'S DAY
for all women in the world (especially in Indonesia).
Today was a tiring day for me. Well, actually our class was treated pretty unfair today. Today we had a full-hour lessons, and actually, today should have been a holiday for us (I mean we just had our third day of our final sport practical examination, but because there was no matery left, we just had to play basketball or soccer or any other kind of sport). It was also peculiar since school announced this news yesterday after school via sms (I thought somebody was just joking when I read that sms) >> what if some students don't get that sms or how about them who don''t own cellphones??
After school this afternoon, some friends (who also will compete at the biology competition next Sunday) and I studied together preparing for the competition. Well, it took 2 hours and trust me, it was exhausting. It was heavily cloudy this afternoon and there were some thunders. At 2.30 PM I went back home and took a nap.
Well, talking about the result show of American Idol 2006. The bottom three was not very shocking (except seeing Chris Daughtry in the bottom two and Paris Bennet in the bottom three). Paris, Chris, and Ace were in the bottom three this week. I think it's obvious from this three who should go. Kellie was the worst this week and she was not even in the bottom three, wow it means that she has a big and strong fan base. Talking about Idols show, starting this night, the Indonesian Idol season 3 starts. Today we watched the audition in some cities (Yogyakarta, Bandung, Jakarta, Medan and Surabaya) and next week we will watch the elimination round in Jakarta. 178 people made it to Jakarta.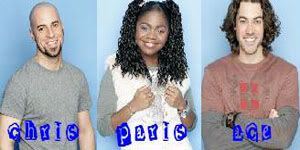 ::: Bottom three this week

INDONESIAN
Pertama-tama aku mau ngucapin
SELAMAT HARI KARTINI
bagi semua wanita di dunia (khususnya yang di Indonesia).
Hari ini adalah hari yang melelahkan untuk aku. Sebenernya sih kelasku diperlakukan agak nggak adil hari ini. Hari ini tadi tuh pelajarannya penuh, dan sebenernya, harusnya tadi tuh libut untuk kelasku (maksudnya, harusnya kan hari ini tuh hari ketiga untuk ujian praktek olahraganya, tapi karena bahannya dah habis, jadi harusnya tadi tuh main asket apa sepak bola atau apa gitu...). Ini juga aneh soalnya sekolah mengumumkan berita ini kemarin habis sekolah lewat sms (pertamanya aku kira seseorang lagi main-main waktu aku baca smsnya) >> gimana coba kalo ada anak yang ga dapet sms atau gimana untuk mereka yang nggak punya hape??
Habis sekolah siang tadi, beberapa temen (yang juga bakalan ikut lomba biologi besok Minggu) sama aku belajar untuk persiapan lomba besok. Tadi ternyata membutuhkan waktu 2 jam untuk belajar dan percayalah, bener2 bikin capek. Tadi juga mendung tebel banget dan terjadi beberapa halilintar tuh... . Jam 2.30 siang aku pulang ke rumah trus langsung tidur deh...
Ngomongin tentang American Idol 2006. Tiga terbawahnya minggu ini nggak terlalu bikin shock (kecuali melihat Chris Daughtry di 2 terbawah dan Paris Bennet di 3 terbawah). Paris, Chris, dan Ace adalah tiga terbawah minggu ini. Menurutku sih dari tiga ini dah jelas sapa yang seharusnya pulang. Kellie tuh menurutku yang terjelek minggu ini dan dia bahkan nggak di tiga terbawah minggu ini, ini menunjukkan kalo dia punya fans yang banyak dan kuat. Ngomongin tentang acara Idol, mulai malem ini Indonesian Idol season 3 dah mulai. Hari ini nayangin audisi di beberapa kota (Yogyakarta, Bandung, Jakarta, Medan dan Surabaya) trus minggu depan bakalan nayangin babak eliminasi di Jakarta. 178 orang berhasil lolos ke Jakarta tuh.