ENGLISH
Previously on
East Java Vacation (Part 1: Malang)
, Zilko and his parents went to East Java. On Day 1 and Day 2 they went to Malang.
Day 3 (1st August 2008)
Following our plan, we left Malang this day. At about 9 AM we checked out from the hotel. Then my dad wanted to eat at a Warung Rawon which was delicious as he ate like 20 years ago. When we found it, apparently it had changed a lot. It was not tasty at all... :( So we decided to have breakfast at another well-know restaurant, Cwie Mie Hok Lay. It was so famous... ;) Yea, the cwie mie was delicious but for me, Cwie Mie Sawahan was still slightly more delicious, hmmm.... . Then because my dad was curious with the Rawon Nguling and it was close to the cwie mie depot, so we walked there. I had been so full that I couldn't enjoy nor eat the rawon, LOL.
Then at 11 AM finally we left Malang. At about 12.30 PM we arrived at Blitar. We first went to my mom's friend's house. Then my mom other friend asked us to have lunch at a Warung Gado-Gado out of town. It was tasty!! hahaha... . Then we visited some relatives there. At 4.30 PM we left Blitar. Otw to Tulung Agung we stopped by at my grand-grand parents' graves. After that we ate some local delicacies, LOL. It's called "cenil". It's just to sweet for me.
At about 6.30 PM we arrived at Tulung Agung. We first visited our relative home, then we checked in at our hotel. Well, at that time there was a black out there. Damn. So, at first we had dinner at a warung sate kambing there, in a darkness of course, LOL. Then we picked other relative to have another light meal. We ate a Tahu Lontong at a warung. It was tasty!! hahaha... . Then we went around town and bought some kerupuk rambak. After that we went back to our hotel.
Day 4 (2nd August 2008)
We left the hotel at 8 AM. We had breakfast at Soto Tamanan. After that we left Tulung Agung. When we arrived at Kediri, we went into the city to buy some gifts, which was tahu (tofu). Then, we went to Puh Sarang Maria Cave, haha... . At 11.45 AM we left Puh Sarang and went back to Yogyakarta. On the way we had meal at Nirwana Restaurant, Nganjuk again...
At about 6 PM we arrived at Yogyakarta, and I was so exhausted, hahaha... .
That was my trip to East Java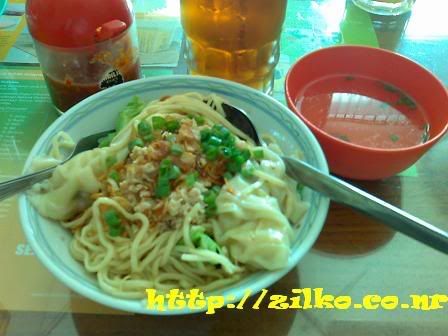 ::: Cwie Mie Hok Lay
::: ice cream
::: gado-gado, tasty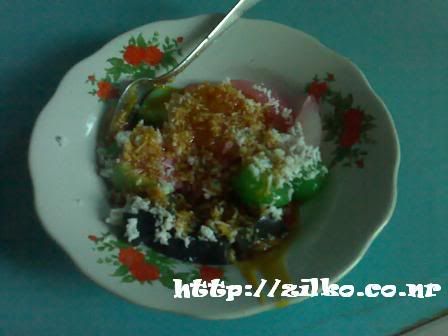 ::: cenil, a local snack, a bit too sweet for me...
::: sate (in poor light, there was a blackout)
::: Tahu Lontong with no lontong, LOL. Tasty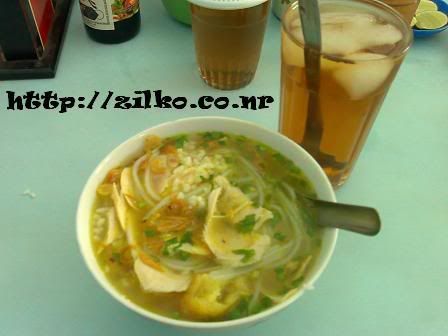 ::: Soto Tamanan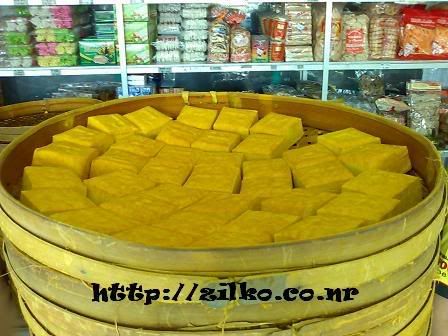 ::: Tahu Poo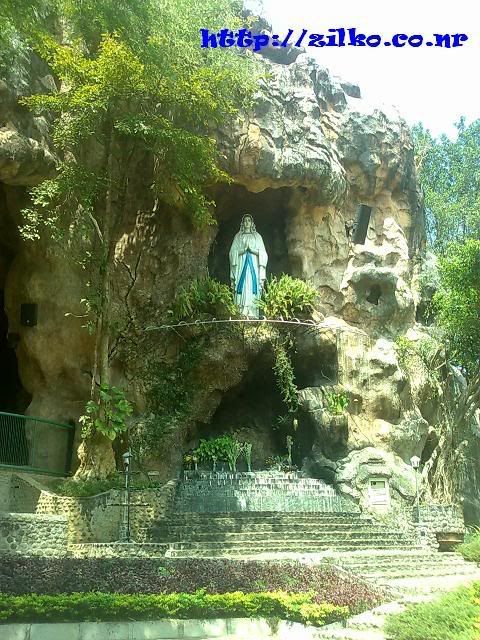 ::: Puh Sarang Maria Cave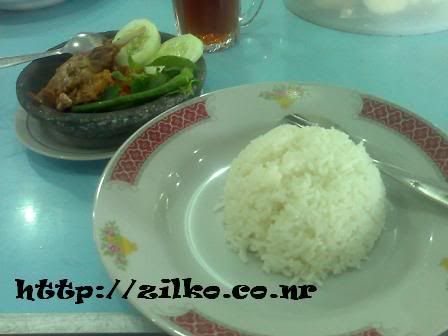 ::: my meal at Nirwana Restaurant, Nganjuk

BAHASA INDONESIA
Sebelumnya dalam
East Java Vacation (Part 1: Malang)
, Zilko dan ortu nya pergi ke Jawa Timur. Di Hari 1 dan Hari 2 mereka pergi ke Malang.
Hari 3 (1 Agustus 2008)
Mengikuti rencana, kita meninggalkan Malang pada hari ini. Sekitar jam 9 pagi gitu kita meninggalkan hotel. Trus papaku kan pingin makan di sebuat Warung Rawon yang katanya dulu sih terkenal enak yang dia makan sekitar 20 tahun yang lalu. Nah, waktu ketemu, ternyata udah banyak berubah. Sama sekali nggak enak... :( Jadi kita mutusin untuk sarapan di sebuah restoran yang dulu terkenal juga, Cwie Mie Hok Lay. Mie nya kayanya terkenal tuh... ;) Yup, mie nya memang enak loh tapi untuk aku Cwie Mie Sawahan masih sedikit lebih enak deh, hmmm.... . Trus karena papaku masih penasaran sama Rawon Nguling dan lokasinya kebetulan dekat dengan depot cwie mie nya, makanya kita jalan kesana. Aku udah kekenyangan bgt sih waktu itu makanya gabisa menikmati rawon-nya, LOL.
Trus jam 11 pagi akhirnya kita meninggalkan Malang. Sekitar jam 12.30 kita tiba di Blitar. Pertamanya kita pergi ke rumahnya temennya mamaku. Trus temennya yg lain ngajak makan siang di sebuah Warung Gado-Gado di agak keluar kota gitu. Enak loh!! hahaha... . Trus kita mengunjungi beberapa kerabat disana. Jam 4.30an gitu kita meninggalkan Blitar. Otw ke Tulung Agung kita mampir di kuburan nya buyut saya. Habis itu kita makan snack lokal tuh, LOL. Disebutnya "cenil". Menurutku sih terlalu manis kalo untuk ukuran aku.
Sekitar jam 6.30 sore kita tiba di Tulung Agung. Pertamanya kita mampir di rumah kerabat, trus kita ke hotel untuk check in. Oya waktu itu disana lagi mati lampu tuh. Sial. Jadi, habis itu kita makan malah di warung sate kambing sambil bergelap-gelap ria dah, LOL. Trus kita menjemput kerabat dan makan ringan bareng di warung Tahu Lontong. Enak juga loh!! hahaha... . Trus kita keliling kota dan beli beberapa kerupuk rambak. Habis itu balik deh ke hotel.
Hari 4 (2 Agustus 2008)
Kita meninggalkan hotel jam 8 pagi. Kita makan di Soto Tamanan dulu. Habis itu kita meninggalkan Tulung Agung. Ketika tiba di Kediri, kita masuk ke kotanya untuk beli oleh2, yaitu tahu. Habis itu kita pergi ke Gua Maria Puh Sarang, haha... . Jam 11.45 siang akhirnya kita balik deh ke Yogyakarta. Di perjalanan kita makan di Restoran Nirwana, Nganjuk lagi...
Sekitar jam 6 sore kita tiba di Yogyakarta, dan capek bgt dah waktu itu, hahaha... .
Itulah perjalanan saya kemarin