ENGLISH
Well, now the 23 credits problem shows a little 'light of hope'. Still, it's still a bit far away from being 'solved', hmmm... . One problem is solved then another new problem followed! Dang!! Hopefully this week I really can solve this one!! hahaha... ;) Fire!!!
Anyway, I have nothing to write actually, haha... . Because of
her
, yesterday I wanted to eat soto, LOL. So I had breakfast at Soto Semarang yesterday morning, hahaha... .
Anyway, this week has been tough for aviation. Several aviation accidents happened!! Hmmm, it started with SpanAir's MD82 accident just after taking off from Barajas Airport, Spain; then ItekAir's Boeing 737-200 accident in Kyrgisthan; then Philippines Air Force's Hercules C-140 in Mindanao, then Sun-Air's Boeing 737-200 highjacking; then the last one was in Indonesia: Sriwijaya Air's Boeing 737-2H6/Adv reg code PK-CJG overrunning the runway in Sultan Thaha Airport, Jambi. Whatta week!! Hmmmm...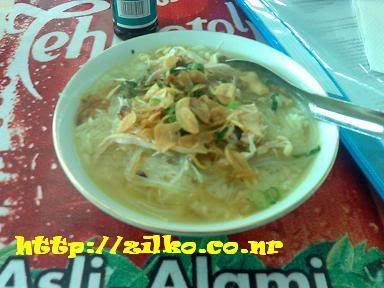 ::: Soto Semarang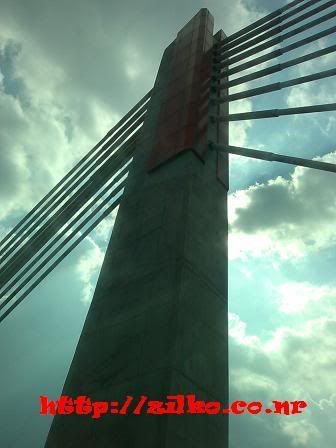 ::: the tower of Pasupati Bridge, Bandung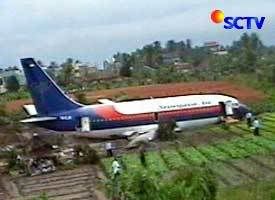 ::: Sriwijaya Air's Boeing 737-2H6/Adv reg code PK-CJG after overruning the runway of Sultan Thaha Airport, Jambi. Photo courtesy of SCTV

BAHASA INDONESIA
Hmm, sekarang masalah 23 sks-nya menunjukkan 'secercah harapan'. Walau begitu, masih jauh nih dari bisa dikatakan masalah teratasi, hmmm... . Satu masalah beres eh koq malah muncul masalah lain! Sial!! Semoga benar2 bisa terselesaikan minggu ini deh!! hahaha... ;) Semangat!!!
Ngomong2, gak ada bahan untuk ditulis nih sebenarnya, haha... . Namun gara2
dia
, kemarin aku jadi pingin soto kan, LOL. Makanya kemarin pagi makan Soto Semarang deh, hahaha... .
Ngomong2, minggu ini beneran berat deh untuk industri penerbangan. Beberapa kecelakaan penerbangan terjadi!! Hmmm, dimulai dengan kecelakaan MD82 maskapai SpanAir setelah lepas landas di Bandara Barajas, Spanyol; kemudian kecelakaan Boeing 737-200 Itek Air di Kirgistan; kemudian kecelakan Hercules C-130 Angkatan Udara Filipina di Mindanao; lalu pembajakan pesawat Boeing 737-200 Sun Air; kemudian yang terakhir di Indonesia: pesawat Boeing 737-2H6/Adv-nya Sriwijaya Air kode registrasi PJ-CJG yang overrunning landasan pacu Bandara Sultan Thaha, Jambi. Gila banget dah!! Hmmmm...