note: this entry will only be written in English
Last week, the
WTA Tour Championships
, a year end championships, of women professional tennis was held at Doha, Qatar.
Singles
At Doha, eight female tennis players were qualified to play singles. They are the eight female tennis player with the highest points earned during the whole 2009 season along with two alternates. They are, in order (and also the grouping in the tournament):
1. Dinara Safina (RUS) -
white group
2. Serena Williams (USA) -
maroon group
3. Svetlana Kuznetsova (RUS) -
maroon group
4. Caroline Wozniacki (DEN) -
white group
5. Elena Dementieva (RUS) -
maroon group
6. Victoria Azarenka (BLR) -
white group
7. Venus Williams (USA) -
maroon group
8. Jelena Jankovic (SRB) -
white group
9. Vera Zvonareva (RUS) - alternate
10. Agnieszka Radwanska (POL) - alternate
This tournament was really dramatic and "full of stories". Aside from the 2009 US Open, I think this tournament is also the most dramatic tournament of the year.
This year has been filled with a debate whether or not Dinara Safina deserved to be world no. 1 while she has not won any grandslam title yet. Coming at the tournament, Safina was only leading 155 points ahead of Serena Williams. It means that whoever did better in the year end championships, she would be the world no.1.
However, Dinara Safina then retired at her first match against Jelena Jankovic. At the time, Serena Williams had already won her first match against Svetlana Kuznetsova. This means that Serena Williams is officially the year end world no.1 in 2009!!
As for Jelena Jankovic (JJ), who qualified for the tournament in the last minutes, she was really lucky. She was in the white group, which I personally think was the easier group as she was in the same group with debutants, Azarenka and Wozniacki, and Safina, who was struggling at the end of the year. JJ lost miserably at her first match against Azarenka. That was the end of her bad luck. At her second match, she only needed to play two games to win the match as Safina retired. At the third round, she played the exhausted and injured Wozniacki. Of course JJ won the match and she was through to the semifinal. I gotta say JJ was really lucky. Not that being lucky is bad, I think luck is one key factor in tennis match :)
::: Jelena Jankovic at Doha
Wozniacki, however, played her really best. She defeated Azarenka in a what seemed to be an easy match for Azarenka as of the first set. Due to Safina's withdrawal, Safina was replaced by Vera Zvonareva, the first alternate, to play Wozniacki's second match. The match was one of the most dramatic match of the season as both players were injured. Wozniacki even had a severe cramp at the last game of her match and fell to the ground. Wozniacki eventually won the match. However, the victory still didn't guarantee a semifinal spot for her and she still had to play JJ. Exhausted, she easily lost to JJ. Her faith was determined by the result of the last match at the white group, a match between Azarenka and Agnieszka Radwanska, the second alternate who replaced Zvonareva because of Zvonareva's injury. Azarenka looked like going to win the match easily as she lead 6-4, 4-0 at the second set. However, Radwanska stormed back and won the second set 7-5. At the third set, suddenly Azarenka feel exhausted and injuries attacked her. She retired at 4-1, Radwanska's leading. Thus, Wozniacki was through to the semifinal.
::: Caroline Wozniacki cramping
At the maroon group, Serena Williams was unbeatable as she won all her round robin matches. She was only down one set on her match against her sister, Venus Williams. Venus Williams, the defending champion, struggled at her round robin round as she lost her first two matches against Dementieva and Kuznetsova. V. Williams eventually won her match against Kuznetsova, thus still keeping her chance alive. The last semifinal spot was determined with Dementieva vs Kuznetsova's match. If Dementieva won, she would be through to the semifinal. If she lost, V. Williams would advance. Dementieva then lost to Kuznetsova, thus, V. Williams was through to the semifinal even with only one win at round robin. This was the second time it happened, the first one was Amelie Mauresmo in 2003.
In the semifinal, V. Williams would face JJ, and S. Williams would face Wozniacki. V. Williams beat JJ in three sets, thus, making her second consecutive appearance at the tournament's final. JJ played a lot better in this stage of the competition. In other hand, S. Williams played poorly in her semifinal match agains the injured Wozniacki. S. Williams should have won easily but she made too many unforced errors. Still, she won the first set 6-4. At the second set, she served first and was broken by Wozniacki! But then, Wozniacki retired from the match citing abdominal injury. Should Wozniacki was not injured, I think S. Williams would have lost the match with that level of play, hmmm. Anyway, it means that S. Williams would meet her sister for the second time in four days.
In the final, both Williams sisters played a lot better than before. But it was S. Williams who was in her peak of her performance, thus crushing her sister 6-2, 7-6(4) to win the tournament. She remained unbeatable at the tournament and recieved 1500 points, plus US$ 1,550,000 prize money in singles (She and her sister also played doubles, so, her prize money from this tournament must be bigger than the figure :) ).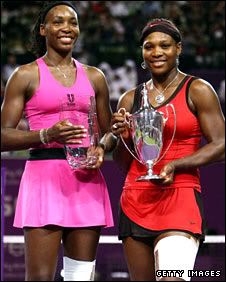 ::: Serena Williams and Venus Williams with their trophies
Anyway, during the tournament, I think Venus Williams didn't play her best. She made too many unforced errors and double faults. Plus, her second serve play was also weak. I think Venus needs to work on this to prepare for the 2010 season.
Now, Serena Williams is world no.1 and she is 1,275 points ahead Dinara Safina, the world no.2. It is a pretty good lead as the gap guarantees Serena Williams to be world no.1 at least until the conclusion of 2010 Australian Open, the first grandslam in 2010.
Doubles
In doubles, four teams with most points earned in 2009 qualified for the event. The four teams were (in order):
1. Cara Black (ZIM) / Liezel Huber (USA)
2. Serena Williams (USA) / Venus Williams (USA)
3. Nuria Llagostera Vives (ESP) / Maria Jose Martinez Sanchez (ESP)
4. Samantha Stosur (AUS) / Rennae Stubbs (AUS)
The "special" thing is the presence of Serena Williams and Venus Williams. They had only played FIVE tournaments prior to the year end championships, but still managed to be qualified for the event. Yea, they performed strongly. They played at four grandslam tournaments and Stanford, a premier-level tournament. They won four titles, at Stanford and three grandslams. Their only loss came at French Open's third round, to pair Bethanie Mattek-Sands and Nadia Petrova.
Cara Black and Liezel Huber were the defending champion and they had been co-world no.1s in doubles since November 2007. The position was solid, until the "threat" from the Williams sisters became alive. Should they lost their semifinal match and the sisters won the tournament, the sisters would have taken their world no.1s position. Luckily for them, they beat Stosur/Stubbs at the semifinal, thus, securing their world no.1s title. However, the Williams sisters' run was ended in the semifinal as the lost in three sets to Llagostera Vives/Martinez Sanchez, whom eventually won the championships.
ps: photos were taken from many sources