ENGLISH
Hi all!! After being hiatus for about almost 4 days, now I'm back here!! The story about my trip to Jakarta (
not
to Yogyakarta, my hometown) will be posted soon... :)
Btw, last Sunday there happened another disaster in Yogyakarta, and twas a tornado!! It happened for almost 30 minutes, and damaged many houses. Guess what?? The most wrecked area because of that tornado was just so close to my house (less than 1 km). Luckily, my house is perfectly fine. Last week, another storm also happened in Yogyakarta. It was not only storm, but also icy rain (so, it wasn't water which dropped from the sky, but it was ICE!!!!).
Btw, today has been another exhausting day for me. My college-day started at 9 AM with discrete math subject (well, my homework which I did in a rush last Friday because I was going to Jakarta, apparently got a perfect score, hehehe... :D). Then, at 10.40 AM, my lecture ended. Because last Monday I was absent, I still had computer programming task undone yet. So, this morning after discrete math lecture was finished, my friends and I finished our task at the computer lab until 12.25 PM. At 12.30 PM, I got a Macro Economy Lecture. This lecture is actually supposed to be held on Friday, but since next Friday my lecturer will have to attend a meeting, so she moved it to this afternoon. At 2.45 PM, the lecture finally finished. At 3 PM, I still got one more lecture, second calculus!! In the only 15 minutes break, my friends and I had lunch (or dinner?? :D) first, and we were late for about 10 minutes ... :) Whatta day!!! Lucky yesterday I had predicted this would happen, so last night I finished my "Kewarganegaraan" homework for tomorrow and tonight I'm free... :)
Well, I haven't watched the entire episode of the top 12 men at American Idol yet, so I can't write any comments yet here... :)
--- commercial break ---
According to the masterplan, if there is no obstacle,
QUA-LI Jakarta
will be grand-opened on
Sunday, 18th March 2007
in Citraland Mall, 5th level.
--- commercial break ends ---
::: Opening Soon,

QUA-LI Jakarta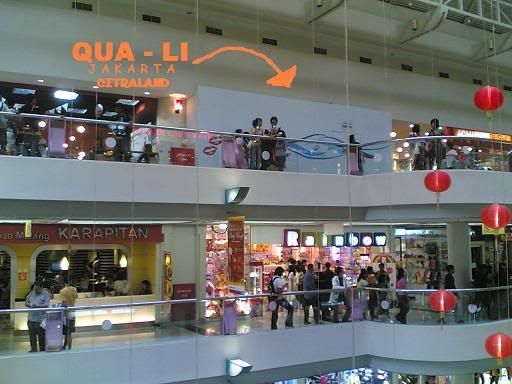 ::: The location of

QUA-LI Jakarta

at Citraland (on the

5th level

next to KFC).

BAHASA INDONESIA
Hallo semua!!! Habis hiatus selama sekitar 4 hari, sekarang saya baliK!! Cerita perjalanan saya ke Jakarta (Bukan ke Yogyakarta, kota asalku, loh) akan aku posting kemudian... :)
Btw, kemarin Minggu terjadi lagi sebuah bencana di Yogyakarta, dan itu adalah tornado!! Terjadi sekitar hampir 30 menit, dan merusak banyak rumah. Tebak apa?? Area yang paling rusak akibat tornado ini adalah area di deket rumahku (kurang dari 1 km). Untungnya rumahku nggak apa-apa. Minggu lalu, badai lain juga terjadi di Yogyakarta. Nggak cuma badai, tapi juga hujan es (jadi yang jatuh dari langit bukan air tapi ES!!!!).
Btw, hari ini adalah hari yang sangat melelahkan buat saya. Hari kuliahku dimulai jam 9 pagi dengan mata kuliah matematika diskret (ternyata PRku yang aku kerjain dengan terburu-buru kemarin Jumat malam dapet nilai sempurna loh, he3... :D). Trus jam 10.40 pagi kan kuliahnya selesai. Karena Senin kemarin aku ga masuk, jadi aku masih ada tugas pemrograman komputer yang belum dikerjain deh. Jadi, pagi ini habis kul matematika diskret, aku sama temen2ku ngerjain tuh tugas deh di lab komputer sampe jam 12.25 siang. Jam 12.30 siang, aku ada Kuliah Ekonomi Makro. Kuliah ini seharusnya sih diadakan tiap hari Jumat, namun berhubung Jumat besok dosennya gabisa soale harus ikutan rapat, makanya dia memindahkannya ke siang ini. Jam 2.45 sore kuliah akhirnya selesai. Jam 3 sore, aku masih ada 1 kuliah lagi, kalkulus dua!! Dengan istirahat cuma 15 menit, aku sama temen2ku makan siang (ato malem?? :D) dulu, dan kita telat deh sekitar 10 menit-an lah... :) Bener2 sebuah hari!!! Untung kemarin aku sudah memprediksikan hal ini akan terjadi, makanya semalem aku ngerjain PR Kewarganegaraanku untuk besok dan malam ini saya bebas... :)
Hmm, aku blom nonton keseluruhan episode dari 12 besar laki2 di American Idol sih, jadi aku gabisa komen dulu deh disini... :)
--- iklan komersial ---
Menurut rencana, jika tidak ada halangan
QUA-LI Jakarta
akan grand-opening pada hari
Minggu, tanggal 18 Maret 2007
di Citraland Mall, lantai 5.
--- iklan komersial selesai ---