ENGLISH
Wow, today, it has been exactly one month since the day I arrived in the Netherlands!! Well, this has been one full of good month!! I think I have settled in really well, feeling fairly comfortable with my new environment, which is exactly in the top of my to-do-list about things I had to first after arriving in the Netherlands. I have also grasp about what I might expect in the course I am taking, and I know that I (and all students) must work our asses off to execute it. Assignments are lining up and we have to be extra time-discipline to avoid it to piling up. One mess can ruin the whole lining thing. Plus, to finish our assignments efficiently, the most effective way is by working together. By working together, it literally means working together. Each individual tries to solve a question and if they do, they will be willing to help the other, and vice versa!! I really love this kind of working environment!! Everyone is contributing, and it is efficient! Well, some clashes, of course, are inavoidable since we came from different countries, different cultures, and different backgrounds. But that is the "beauty".
Another thing I have developed is my cooking skill. In Indonesia, I was never put in any situation where I
had to
cook for myself. Sure sometimes I cooked, but it was not a "must" situation, and I only cooked something really instant (and kinda unhealthy). Having lived for one month here, I have cooked several things and I think my food is not that bad, in fact, I think it is pretty good! One question: "
Why must I cook for myself here?
" Well, look at the picture below, for that kind of so called "lunch", I had to pay 5.35 euro (or around Rp 63,000.- in current currency-rate)!! And it was not really a big serve (as a comparison, the cola bottle in the corner of the picture was a regular-sized one, 500 mL). And I bought that meal in the cheapest canteen in campus!! Well, if I don't cook for myself here, my monthly financial flow will face a serious problem (as I also want to save money, and I have a monthly target for that :D).
Anyway, this week, finally I got my bike! I had been looking for one for a month and last Friday, I went to a bike store near my campus and I found one. It is not a new one (of course, a new one is really expensive), but it is in a really good condition. I like to model, I like the size (not too big and not too small), and I like the color. The brakes work perfectly, and lights are already installed. It all cost 60 euro!! A relatively good price for that spec in the Netherlands (even though for that price, maybe we can get a new one in Indonesia, hahaha).
There was one problem. The last time I rode a bike was when I was 10 or 11, back when I was in elementary school!! After that I never rode a bike because I then just learnt how to drive a car and I rode a car ever since. Luckily, knowing how to ride a bike is "eternal". Once we find the "balance", we will never forget it. Fortunately, that was my case. Last Friday, I tried to pedal the paddle for the first time in about 12 years, and I still owned it!! Well, it is true that my "bike-expertise" was really rusty, but at least I still "knew" the balance!! It was not all good news though. In the first few minutes, I still had not "owned" my bike. I kinda lost control of it, and I fell down (lucky, I fell down to grass). But that was it. Ever since, I slowly gained control of my bike. I made use of my time this weekend to sharpen my "bike-expertise" and so far it has been good. I went groceries-shopping today on my bike, and I like it since riding a bike is (apparently) faster than walking, lol.
All these new experiences, I am pretty sure, will not come to me if I decided to stay in my niche in Indonesia. So, I am really glad with my decision!!
::: A 5.35 Euro Meal!! And I bought this meal in the cheapest canteen in campus, and it was not even a big serve. Anyway, the brownies and cheese were awesome.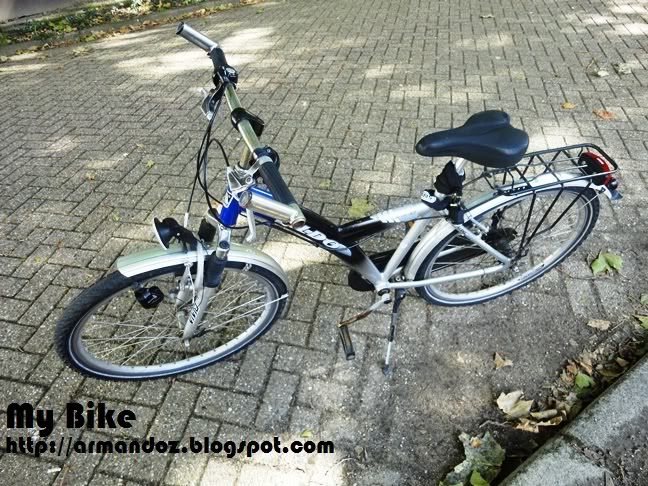 ::: My new bike. I like it!!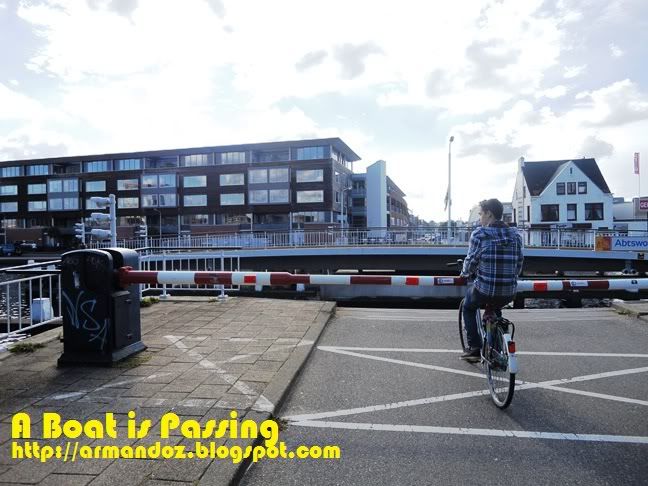 ::: The bridge was rolled to let a ship to pass. A daily scenery in Holland.

BAHASA INDONESIA
Wow, hari ini, sudah genap sebulan semenjak aku tiba di Belanda!! Yah, sebulan ini sudah menjadi bulan yang menyenangkan!! Aku rasa aku sudah menyesuaikan diri dengan cukup baik, merasa lumayan nyaman dengan lingkungan baruku, yang berada di bagian atas dari daftar-yang-harus-kulakukan setelah tiba di Belanda. Aku juga sudah mulai menangkap apa yang bisa aku harapkan akan kuliah yang aku ikuti disini, dan aku tahu kalau aku (dan semua mahasiswa) harus bekerja keras untuk menyelesaikannya. Tugas-tugas selalu mengantri dan kami harus ekstra disiplin dalam hal waktu untuk mencegahnya menumpuk. Satu kesalahan aja bisa menghancurkan alur tugasnya. Plus, untuk menyelesaikan tugas dengan efisien, cara paling efektif adalah dengan bekerja bersama. Maksudnya, ya benar-benar kerja sama. Tiap individu mencoba menyelesaikan soal dan kalau bisa, mereka sangat bersedia membantu yang lain, dan kebalikannya!! Aku sangat suka lingkungan yang seperti ini!! Semuanya berkontribusi dan sangat efisien! Yah, beberapa bentrok kecil jelas tak terhindarkan lah, karena kami kan datang dari berbagai macam negara, berbagai macam budaya, dan berbagai macam latar belakang. Tapi itulah "keindahannya".
Hal lain yang aku kembangkan adalah kemampuan masak. Di Indonesia, aku tidak pernah berada dalam situasi dimana aku
harus
memasak untuk diriku sendiri. Memang sih beberapa kali aku masak, tapi bukan situasi "harus", dan aku cuma masak masakan yang instan-instan aja (dan agak ga sehat). Sudah hidup selama sebulan penuh disini, aku sudah memasak beberapa masakan dan ternyata masakanku gak parah-parah amat loh, malahan, lumayan juga! Satu pertanyaan: "
Kenapa aku harus memasak sendiri disini
?" Yah, liat deh foto di atas, untuk makan siang yang cuma kaya gitu itu, aku harus membayar 5,35 euro (berarti sekitar Rp 63.000,- pakai kurs saat ini)! Dan porsinya itu bukan porsi yang besar lho (sebagai perbandingan,
cola
yang ada di ujung foto itu adalah
cola
ukuran biasa, 500 mL). Dan aku beli menu itu di kantin paling murah di kampus!! Yah, kalau aku nggak memasak sendiri disini, alur keuangan bulananku bisa menemui masalah serius nih (kan aku juga mau nabung, dan aku ada target bulanan mengenainya :D).
Ngomong2, minggu ini, akhirnya aku dapat sepeda! Aku sudah mencari sepeda selama sebulan dan Jumat kemarin, aku pergi ke sebuah toko sepeda di dekat kampus dan menemukannya. Bukan sepeda yang baru (jelas lah ya, soalnya yang baru kan mahal), tapi kondisinya bagus. Aku suka modelnya, suka ukurannya (nggak terlalu besar dan nggak terlalu kecil), dan aku suka warnanya. Remnya bekerja dengan baik, lampu-lampu sudah dipasang semua. Dan harganya adalah 60 euro!! Harga yang relatif baik tuh untuk ukuran sepeda dengan spek seperti itu di Belanda (walau di Indonesia dengan uang segitu mungkin sudah dapat yang baru dan bagus ya, hahaha).
Tapiiii, ada satu masalah. Terakhir kali aku naik sepeda adalah ketika aku berumur 10 atau 11 tahun, waktu aku masih di SD!! Setelahnya, aku nggak pernah lagi naik sepeda karena aku langsung belajar nyetir mobil dan trus aku naik mobil deh. Untungnya, tahu cara naik sepeda itu "abadi". Maksudnya, begitu kita menemukan "keseimbangannya", kita tidak akan pernah melupakannya. Untungnya, itulah yang terjadi padaku. Jumat lalu, aku mencoba mengayuh pedal sepeda untuk pertama kalinya dalam waktu sekitar 12 tahun, dan aku masih bisa!! Memang benar kalau "keahlian-bersepeda"-ku sudah sangat karatan, tapi setidaknya aku masih "tahu" keseimbangannya!! Tidak semuanya berita bagus sih. Di beberapa menit pertama, aku masih belum "menguasai" sepedaku. Aku agak kehilangan kontrol, dan jatuh loh (untungnya jatuh ke rumput). Tapi cuma itu saja sih. Setelahnya, aku mulai perlahan-lahan memegang kontrol sepedaku. Aku memanfaatkan waktuku wiken ini untuk mengasah "keahlian-bersepeda"-ku dan sejauh ini semuanya baik-baik saja nih. Hari ini aku belanja keperluan sehari-hari naik sepeda loh, dan aku menyukainya soalnya (ternyata) naik sepeda itu lebih cepat daripada jalan kaki, lol.
Semua pengalaman baru ini, aku cukup yakin, tidak akan kudapatkan kalau aku memutuskan untuk tinggal di zona nyamanku di Indonesia. Dan aku sangat senang dengan keputusanku!!