ENGLISH
Sigh, now I'm just too tired. I dunno what happened today but I just wasn't on my 100% fit condition. I just had a 4.5 hours sleep last night, and yet had a really long day spanning from 8 AM to 4 PM. Well, it might be 'normal' tho but since I wasn't really fit so it was really exhausting. After my second lecture this afternoon I was just VERY VERY sleepy and exhausted. I wanted to go back home and missed the Aesthetics Class.
There were two thoughts:

: "
No, just go to the class, it's just another 3 hours and after that you could take nap
"

: "
Well, just go back now, miss the class, you still have the 'absent portion
' "
note: Ah, I haven't used these 2 emoticons for a long time, haha...
Again, as usual the angel beats the devil with laser beam (LOLz). Not like some cases where actually the devil was right, now apparently the angel was right. There was an assignment due next week and if I had missed the class, I wouldn't have known this assignment and I'm gonnabe in trouble, hahaha... :)
Anyway, I just watched the tenth leg of
TARA 3
. All teams went to Muscat, Oman. Well, no comment for this leg, but my critic goes to the super poor and stupid placement of U-TURN on the previous leg. U-TURN right before the pitstop? I think that's an idiotic decision. There's no chance for the u-turned team to catch up, and what's interesting from that? I dunno but overall I'm kinda disappointed with TARA 3.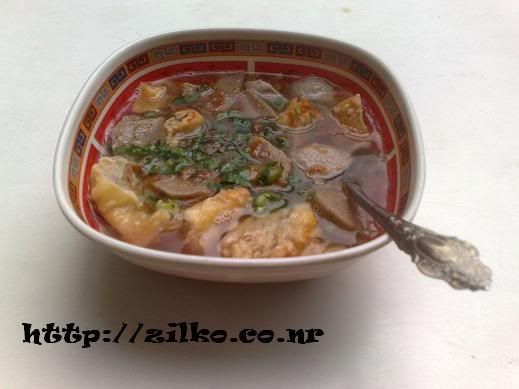 ::: bakso I ate this afternoon in order to fight the exhaustion and drowziness.

BAHASA INDONESIA
Hhh, sekarang lelah sekali. Gatau kenapa tapi hari ini jelas deh aku tidak dalam kondisi 100% fit. Aku cuma tidur 4,5 jam sih semalam dan aku harus menjalani hari yang panjaang terentang dari jam 8 pagi sampe jam 4 sore. Hmm, jamnya mungkin 'normal' sih tapi karena aku tidak berada dalam kondisi fit, makanya jadi melelahkan. Habis kuliah kedua siang tadi aja aku bener-bener SANGAT ngantuk dan capek banget. Aku maunya balik loh dan tidur dan bolos kelas estetika.
Ada dua pikiran bergejolak:

: "
Jangan, masuk aja, kan cuma 3 jam lagi dan habis itu bisa tidur deh istirahat
"

: "
Udah, pulang aja sekarang, bolos aja toh masih ada 'jatah bolos' yang belum terpakai
"
note: Ah, ternyata udah lama juga ya aku ga pake 2 emoticons ini, haha...
Sekali lagi, kaya biasanya dong malaikatnya mengalahkan setan dengan sinar laser (LOLz). Gak kaya beberapa kasus dimana pernah malah setannya yang benar, kali ini ternyata malaikatnya yang benar. Akan ada tugas yang harus dikumpulkan minggu lalu yang mana jika aku tadi bolos aku ga akan tahu keberadaan tugas ini dan aku akan berada dalam masalah, hahaha... :)
Ngomong2, aku baru aja nonton episode kesepuluh dari
TARA 3
. Semua tim pergi ke Muscat, Oman. Hmm, ga ada komen untuk leg ini, cuma kritikku tertuju pada penempatan sangat tolol dan idiot akan U-TURN di leg sebelumnya. Masa U-TURN tepat sebelum pitstop? Aku rasa itu keputusan yang sangat idiot. Nggak ada kesempatan lah jelas untuk tim yang di u-turn untuk mengejar, dan apa yang menarik dari itu? Gatau ya, tapi keseluruhan aku kecewa deh sama TARA 3.