ENGLISH
Well, yea, as you can read at some previous entries, I am super busy these weeks, haha... :) All those things made my last weekend wasn't quite a free weekend for me, hmmm... . I really want next Sunday to come early!! haha... . Because next Sunday most burdens will have been gone!! YEAH!! hehehe... :)
Anyway, so today I went to the elimination round of the math olympiad tho, hmmm... . Well, the questions were relatively easy and that bothers me since easy means many people could do it (LOL) and there's a bigger chance for me to make stupid mistakes (and I DID make some stupid mistakes!! Dang!! I miscounted, etc, shoot!!), haha...
::: not so tasty but expensive mie I had yesterday afternoon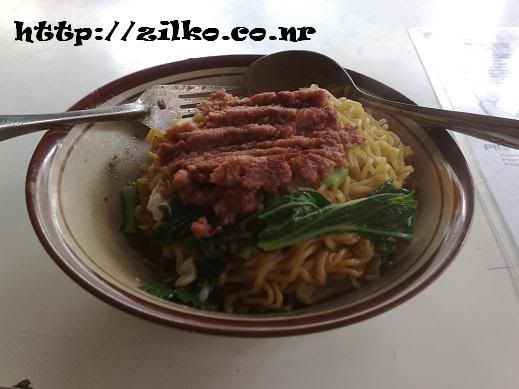 ::: mie and kornet

BAHASA INDONESIA
Hmm, ya, seperti yang bisa dibaca pada beberapa posting belakangan ini kan, aku lagi bener2 sibuk bgt neh minggu2 ini, haha... :) Semua hal itu membuat wiken ku kemarin gak terlalu bebas deh, hmmm... . Aku beneran pingin Minggu besok untuk segera datang nih!! haha... . Karena Minggu besok sebagian besar beban sudah akan hilang sudah!! YEAH!! hehehe... :)
Ngomong2, jadi hari ini aku pergi ke babak eliminasi dari kompetisi matematika nya tuh, hmmm... . Hmmm, soal2nya tergolong relatif mudah sih dan itu mengganggu saya soalnya mudah berarti kan banyak yang bisa trus itu juga memperbesar kemungkinan saya untuk membuat kesalahan konyol (dan aku MEMANG membuat beberapa kesalahan konyol!! Sial!! Misalnya salah hitung, dll, sial!!), haha...